Digital Transformation
WA beef producer, Harvey Beef, wanted to boost production by digitising livestock processing and engaging farmers directly. We couldn't wait to help the business transition from laborious manual processing to streamlined production with an ambitious app, Harvest Road.
Technological insight
Harvest Road required intense collaboration and careful planning. Our UX and technology teams worked closely with Harvey Beef's production department to learn their workflow and discover what functionalities would charge future growth.
Automate livestock processing
Harvey Beef manually scheduled all livestock bookings over the phone. They wanted to directly engage farmers and digitise the process so producers could book their cattle for processing and view their invoices all through an app.
Integrate with the 'brains' of the system
Communication with existing systems was integral. The app would need to integrate with Emydex, the food processing data capture Harvey Beef uses to collect information from the factory floor.
Delivering key insights
The data entered through the booking process and the information Emydex captured in production would provide insights enabling producers to improve the quality of their livestock and enhance the beef Harvey Beef produced.
Accessible automation
Harvest Road needed to prioritise functionality and accessibility, making it as easy as possible for producers to book their livestock. Harvey Beef requested a smooth user experience similar to banking apps.
The objective
Design and develop a responsive app that digitises livestock bookings and provides insights to improve production.
Harvest Road is game-changing technology that will transform not only a business but a whole industry. We can't wait to follow the journey and see how it impacts Harvey Beef and the farmers they engage.
Chris Jones
Technology Director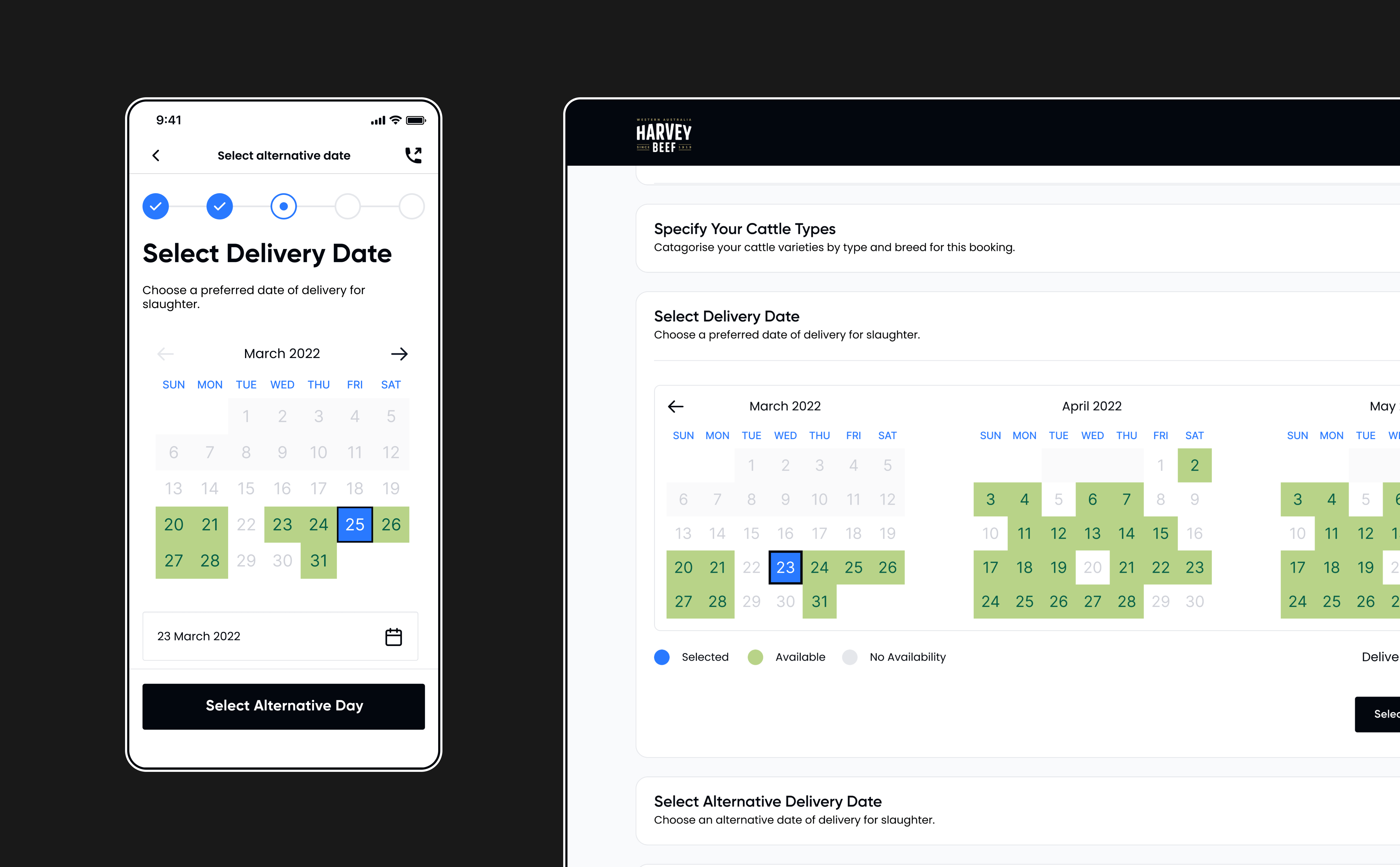 The transformation
Harvest Road has revolutionised Harvey Beef's production process. Producer information is now completely digitised, with farmers able to self-manage bookings, invoice and track sales, and access key insights to analyse and compare cattle.
The web application automates the booking process and cuts out on-the-phone negotiations with a price grid component. In addition, it fetches data from Emydex, so the business's entire production process is integrated and digitised, dramatically improving efficiency.
Streamlining livestock bookings means Harvey Beef will boost its cattle recruitment number and become the abattoir of choice. The data capture element facilitates producer improvement and provides insights that will inform critical business decisions.
Streamlining livestock bookings means Harvey Beef will boost its cattle recruitment number and become the abattoir for WA's top producers.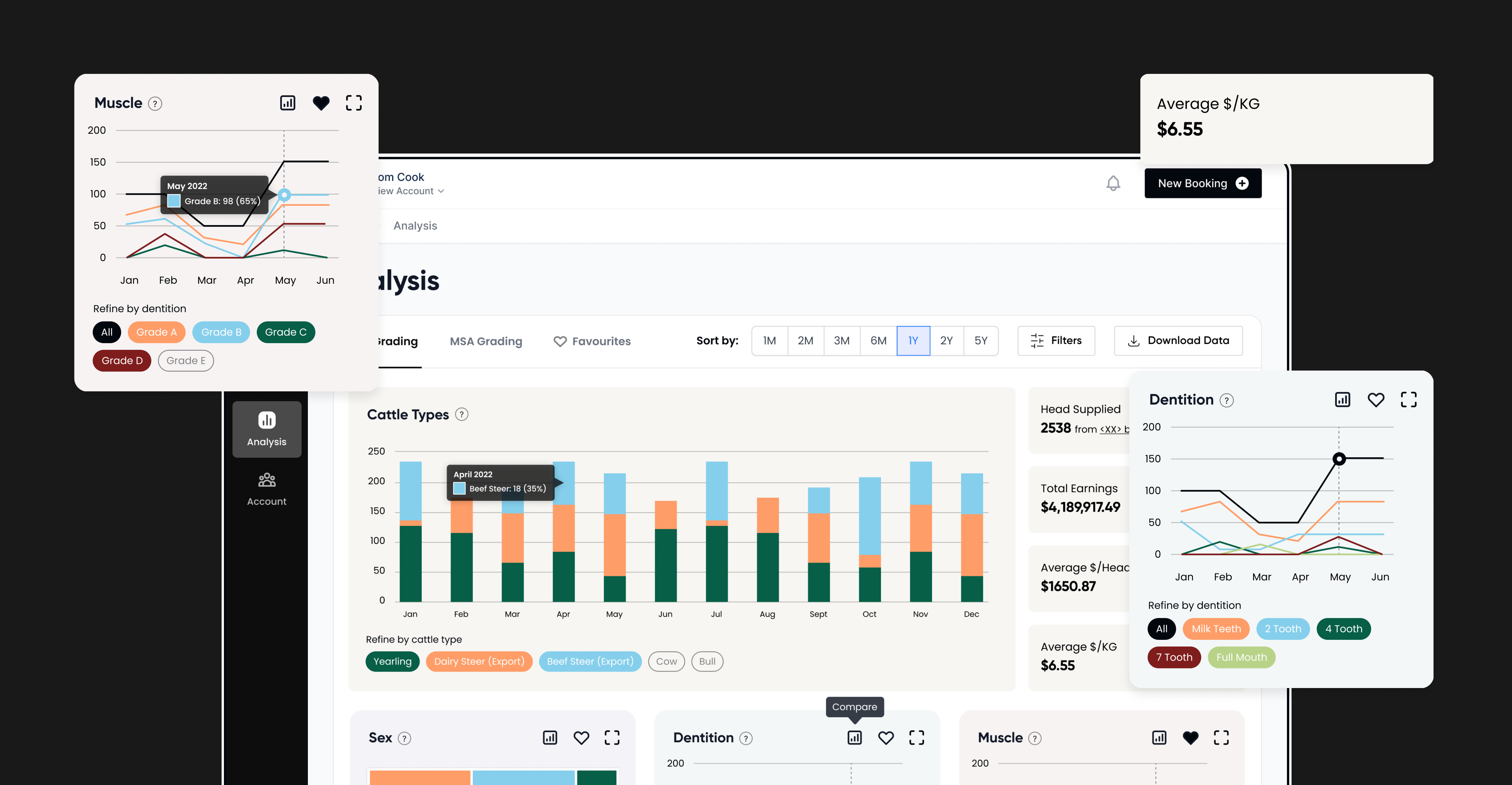 Project credits
Client
Tattarang - Harvest Road
Services
Digital Strategy
UX & UI Design
Applications
Project Team
Chris Jones
Pooja Hoderkar
Matthew Woodcock
Lachlan Abbott
Bryce Gough
Nathan Cowley-Cooper
Joe Mooney
Anthony Nankervis
Cam Campbell
Ellysia Burton
Client
Tattarang - Harvest Road
Services
Digital Strategy
UX & UI Design
Applications
Project Team
Chris Jones
Pooja Hoderkar
Matthew Woodcock
Lachlan Abbott
Bryce Gough
Nathan Cowley-Cooper
Joe Mooney
Anthony Nankervis
Cam Campbell
Ellysia Burton