The electrified future is now.
Known for growing Northern Star to an ASX50 company with a market cap of over A$15 billion, Bill Beament was ready to meet the electrified future with a next-generation resources company.
Building upon his already impressive legacy, Bill approached Juicebox with a clear vision for a company producing clean metals used in sustainable energy generation and storage.
Develop (ASX:DVP) needed a bold and defensible brand with a digital experience that could move with a rapidly transitioning green economy.
Strategic insight
Meeting the expectations of the rapidly transitioning green economy
Shifting perceptions
Shifting perceptions of the resources sector is certainly a challenge bigger than one company, but a powerful brand with strong corporate backing can make a big difference. It's never been about greenwashing; from the get-go, Develop showed sincerity in their desire to be a first-mover in sustainable mining innovation.
Convergent ideas
The brand discovery surfaced convergent ideas from leadership and key stakeholders to build out a compelling and nuanced view of Develop's future. Insights inspired three creative territories – Performance, Character and Transformation, which informed the evolving brand identity and digital execution.
A guiding statement
'Producing Potential' encapsulates the revolutionary processes of discovering, uncovering and refining ingredients for the clean energy economy. As a company that actually gets stuck into the work — rather than just the talk — we developed the guiding statement for how Develop would be recognised in the market:
"We get our hands dirty to produce clean metals."
People & culture
While the resource sector is home to big machines, it's how the humans in charge behave that will transform things for the better. 'People power change', represents Develop's people-first ideology – people and culture are at the centre of every decision. We developed four key values to guide Develop's thinking and behaviour and shape the electrified future.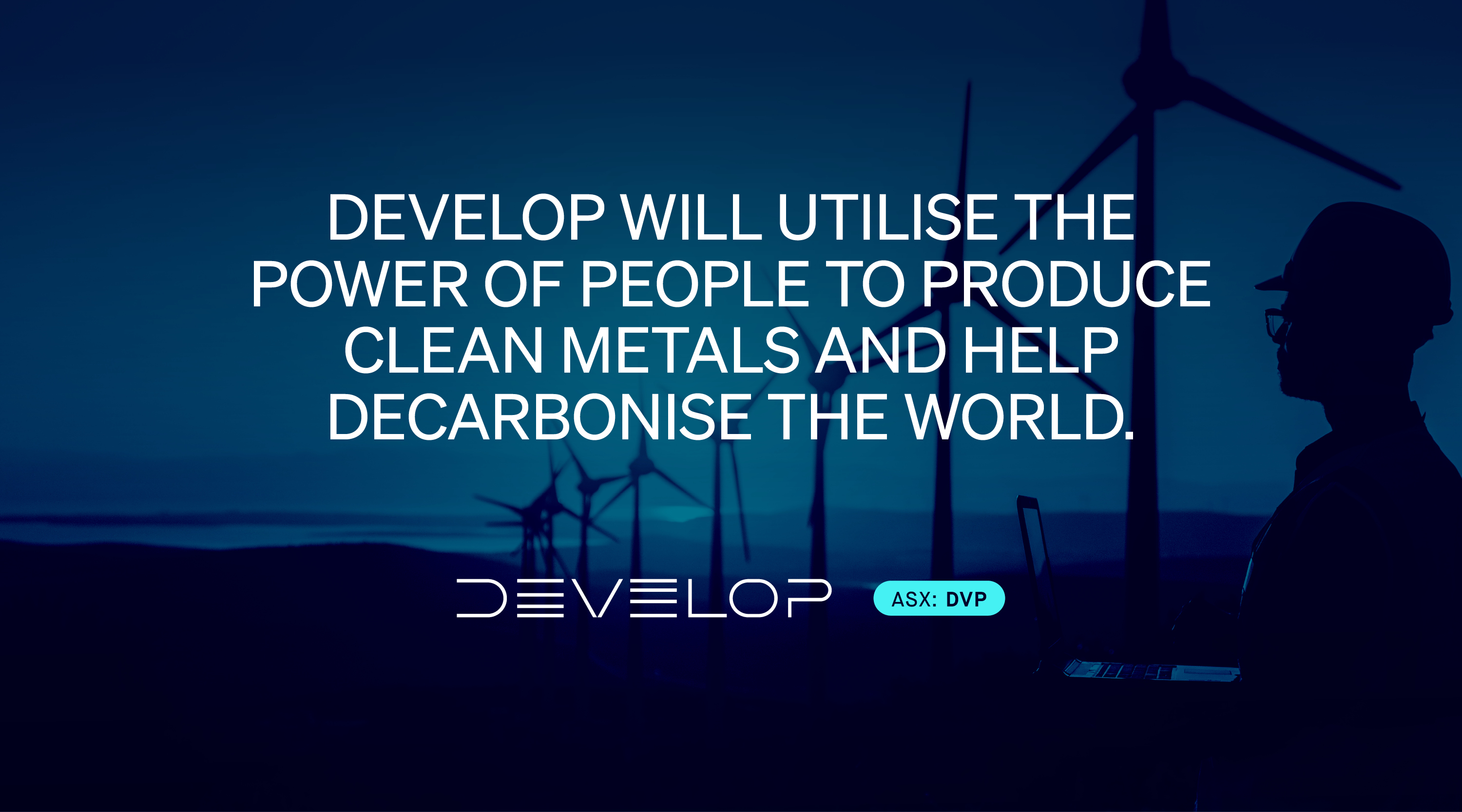 The objective
Develop a powerful brand and digital experience that breaks industry convention and establishes Develop as a first-mover in the green economy.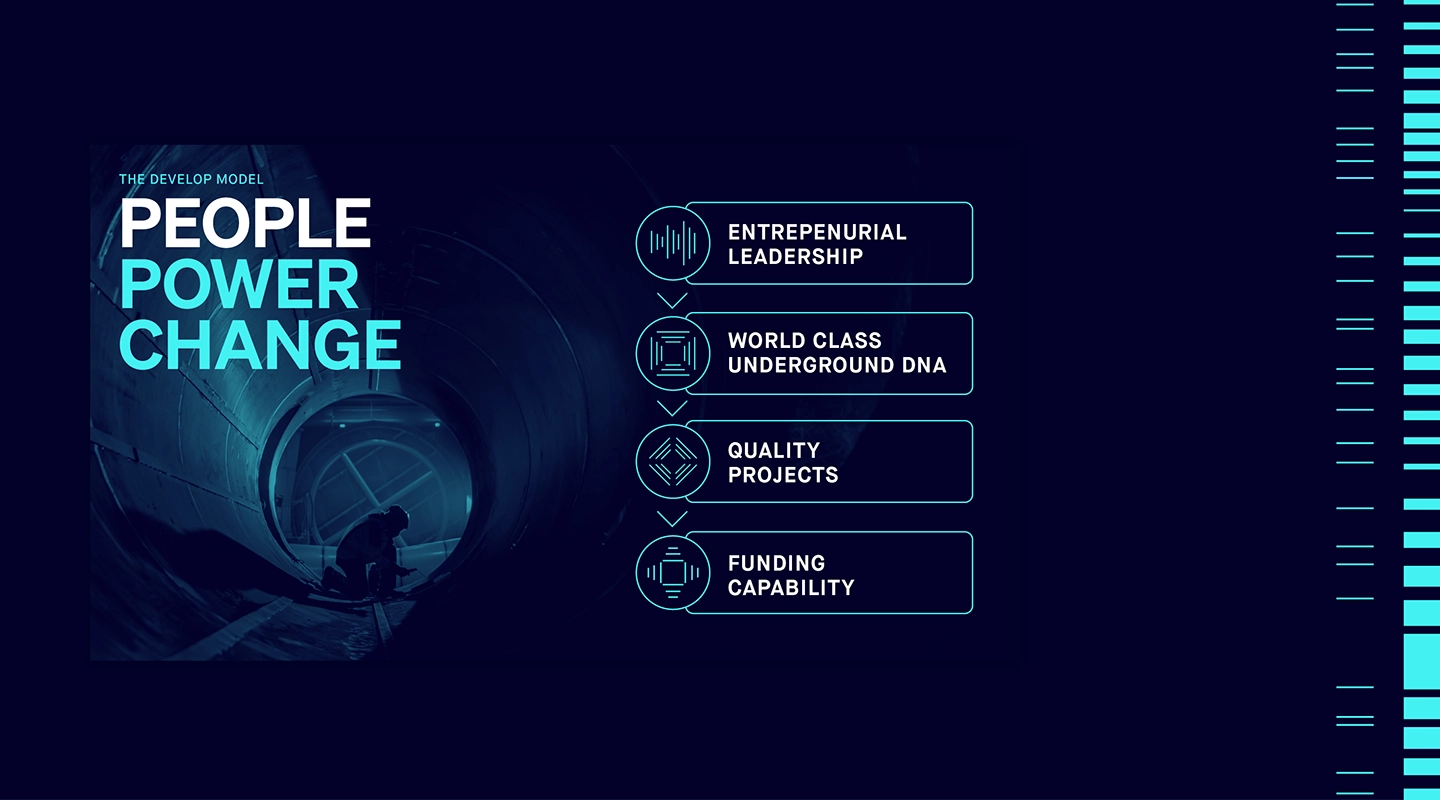 With a focus on innovation, automation and our people-first culture, our actions will positively impact every part of society, changing how the world moves, stores and uses electricity.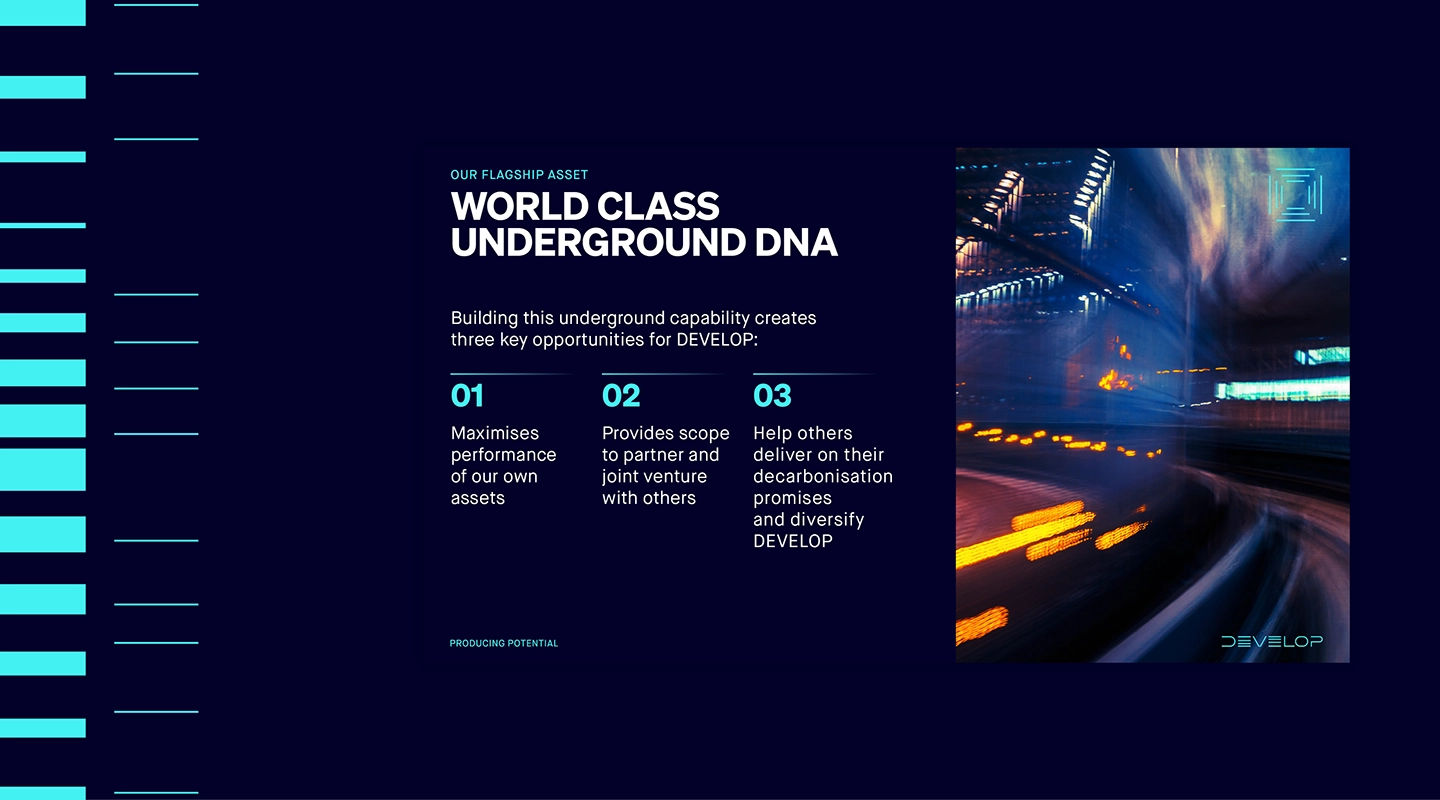 Brand identity and digital execution
Breaking conventions with an electric brand and modernised digital presence
Breaking through conventions
We needed to meet the expectations of the rapidly transitioning green economy with a different and defensible brand. Rather than taking cues from the crowded and expected norms of the resources sector, we determined Develop should behave more like a tech company, prioritising ESG and investing in the latest technologies.
Representing pure ambition
We designed a distinct wordmark that embodies Develop's bold ambition and technological progress. It's complemented by a toolkit of icons and graphic elements that convey constant motion. The striking colour palette is heroed with an electric blue, giving this next-generation resources company an edge in an otherwise mundane industry, while confident typography makes Develop's powerful statements even more impactful.
Modernised digital presence
We designed and developed a modernised digital presence that will enable Develop to successfully transition to a new era in the resources sector. Guided by our brand work, the website shows the end state of clean metal production and the people that are part of it. We balanced bold imagery with a minimal design approach to make Develop's electric brand essence and messaging become the star.
A brand video to mark a change
Beament had already taken the reins of Venturex and had the immovable deadline to announce the new brand and ASX ticker at the 2021 Diggers & Dealers conference in WA. To announce Develop's fearless pursuit of a sustainable energy future, we produced a video for what the AFR would later call "a rock star launch of his new venture". Key to this was the influential message: "Developing this generation's people and technology to reimagine the sector."
Juicebox helped us define the Develop brand and has positioned us as a 'next generation resources company' to support our business strategy.
Bill Beament
Managing Director
Project credits
Services
Brand Strategy
Brand Identity
Key Messaging
Motion Design
Digital Experience
Project Team
Joel Pember
Ivona Gaspar
Mike Boag
Rachel Thwaites
Cam Campbell
Joe Mooney
Anthony Nankervis
Andre Couto
Services
Brand Strategy
Brand Identity
Key Messaging
Motion Design
Digital Experience
Project Team
Joel Pember
Ivona Gaspar
Mike Boag
Rachel Thwaites
Cam Campbell
Joe Mooney
Anthony Nankervis
Andre Couto