Overview + Opportunity
VenuesLive approached us with an exciting opportunity – to help them create an annual international football event, featuring some of the world's biggest clubs, playing 'friendly' matches at Perth's Optus Stadium.
We created 'ICON: Perth's Festival of International Football' – a brand and campaign experience designed to be emotive and urgent, sweeping fans up in excitement and anticipation through a dynamic 3-month local, interstate and international campaign.
Visualising the ICON brand
ICON's logo was born from the universal markings found on every football pitch in the world, with the shape of the slab serif 'I' forming naturally from above.
The strength and boldness of the logo was the perfect visual representation of the word 'icon', which led to the development of the custom wordmark spelling out the name, taking further cues from the pitch markings in particular with the 'O' representative of the centre circle and ball.
The logo ultimately became the visual anchor for all creative construction across the campaign.
Defining campaign audience segments
Major sporting events are an engrained staple of modern Australian culture, so when defining ICON's audience segments it was important to recognise that not everyone attending would be a die-hard football fan.
Our insights determined that most of our desired audience would have varying motivations behind their purchase. To reach these audiences in the most efficient way, we needed to first identify the key persona groups most likely to engage with and ideally purchase tickets to ICON.
Die-hards
Rusted on club loyalists and fans of football first and foremost. This group would be cheering from the bleachers rain, hail or shine.
Sport lovers
Sport drives this group, they love it. AFL, cricket, football, basketball, motor racing, whatever – they'll watch it all, live or on broadcast.
Family unit
Mum, dad, the kids and the grandparents having a night out and soaking up the atmosphere while watching the world's best.
Bandwagoners
The FOMO is real with this audience, always late to purchase but love a big event and are passionate with their enthusiasm.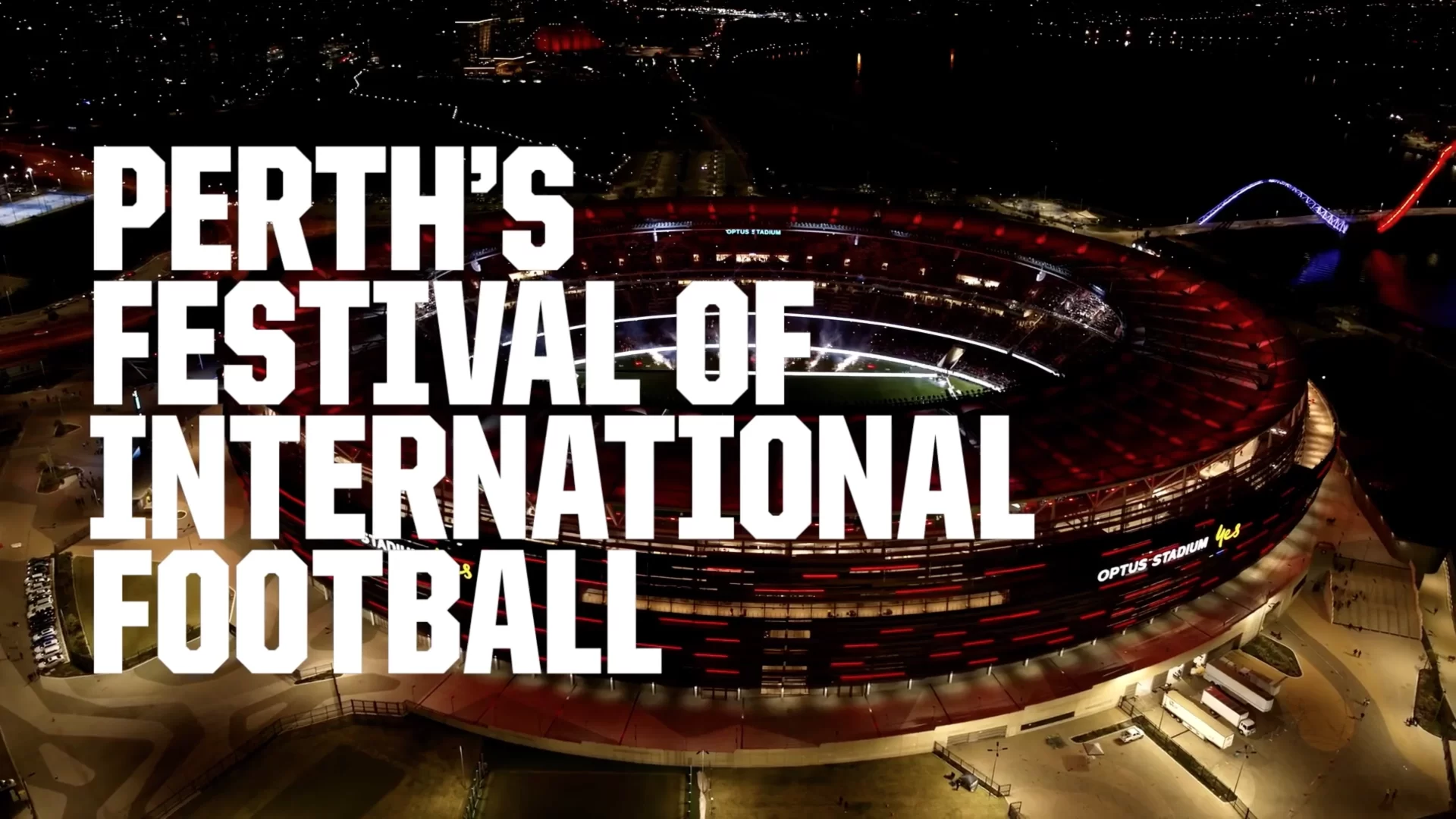 Planning and executing
the campaign
The strategic campaign plan we devised for ICON was broken down across four key phases; Launch & Pre-sale, On-sale, The Journey and Event Week, with each phase having its own objectives for success.
Within each phase we delivered channel planning and variations on creative specific to each audience segment and their location, whether it be local, interstate or international.
We were agile in approach, pivoting on message, channel and spend where required, ensuring always that our audience was receiving refreshed and engaging content to assist in their decision to purchase tickets.
0
Attendance across both matches
0
Countries where tickets purchased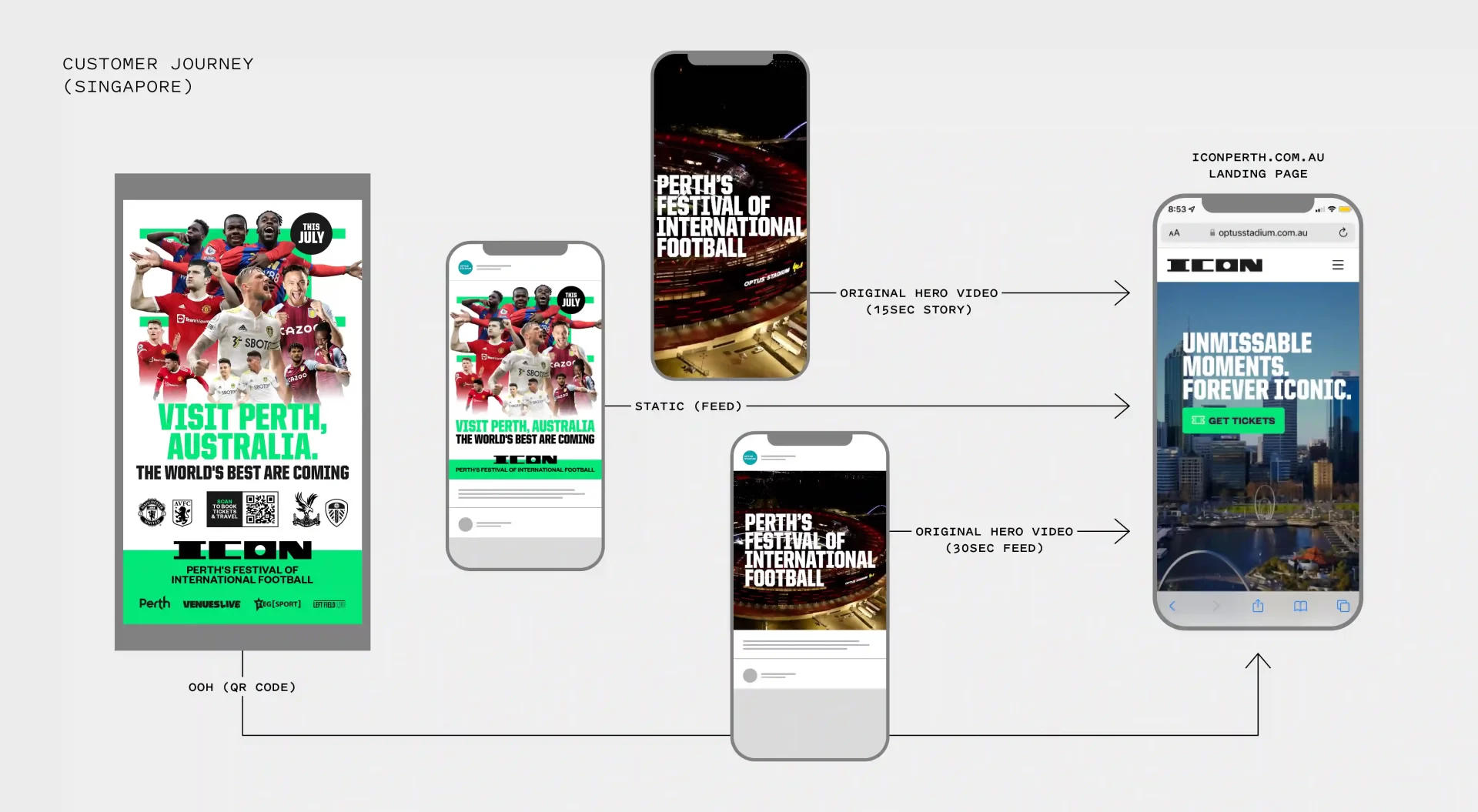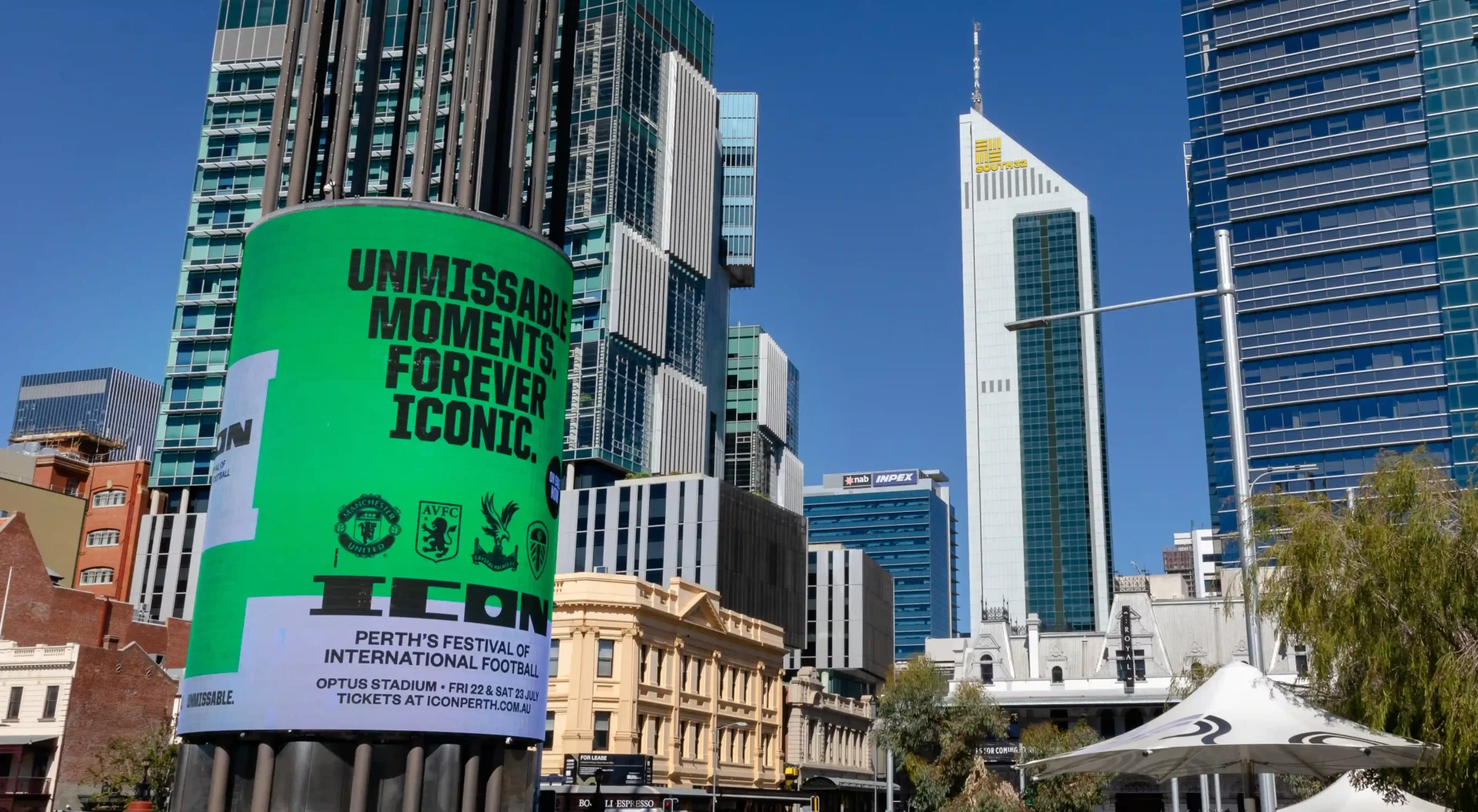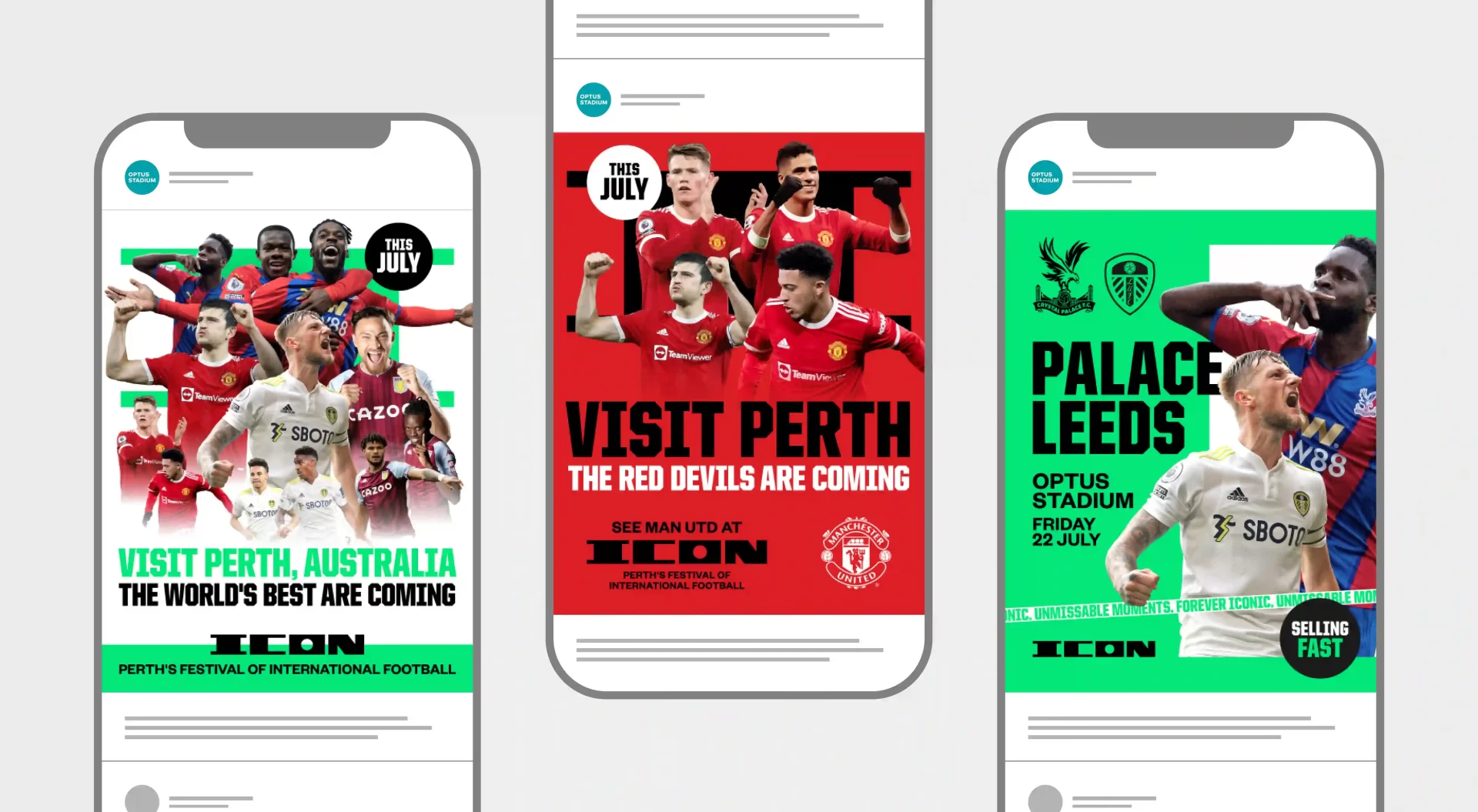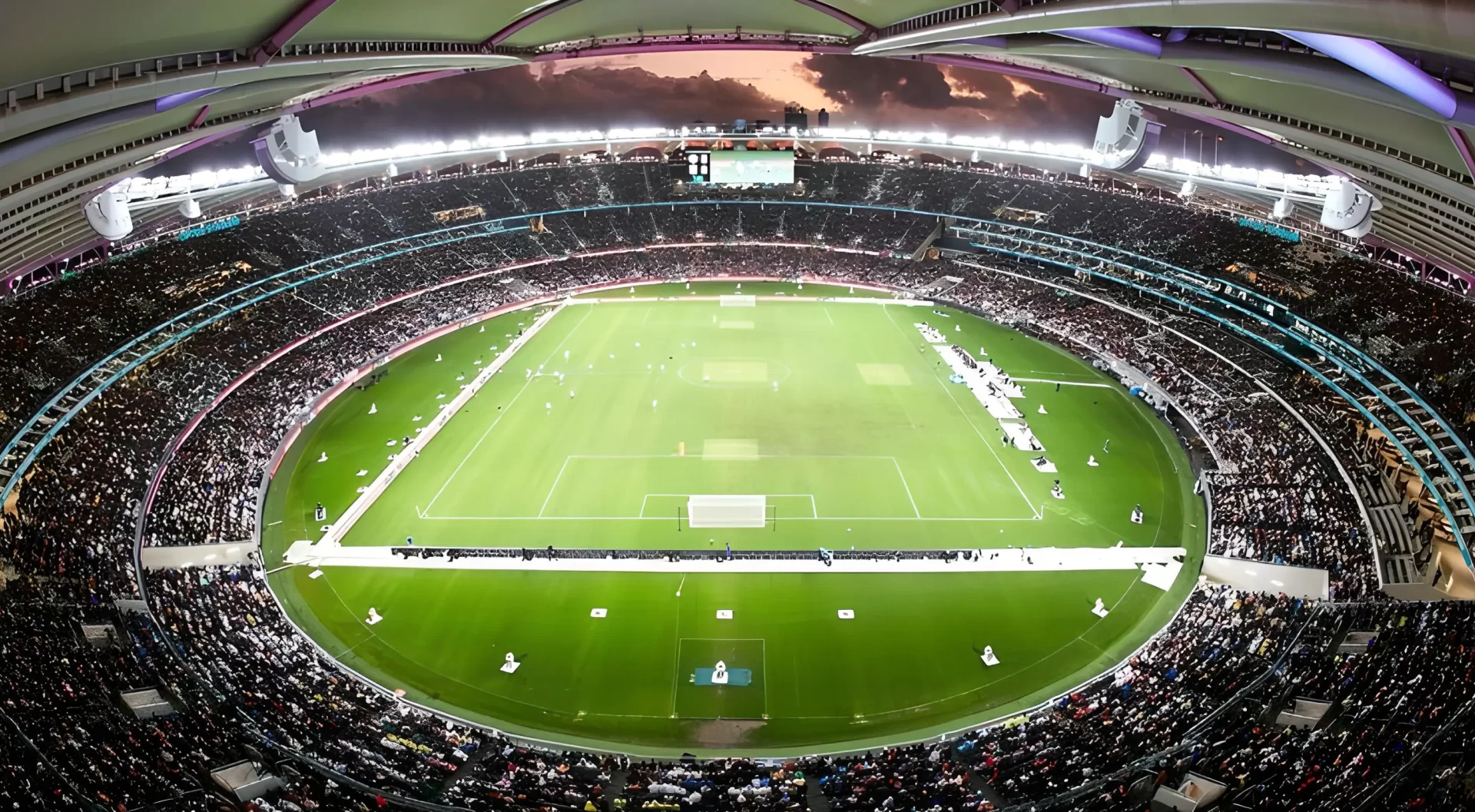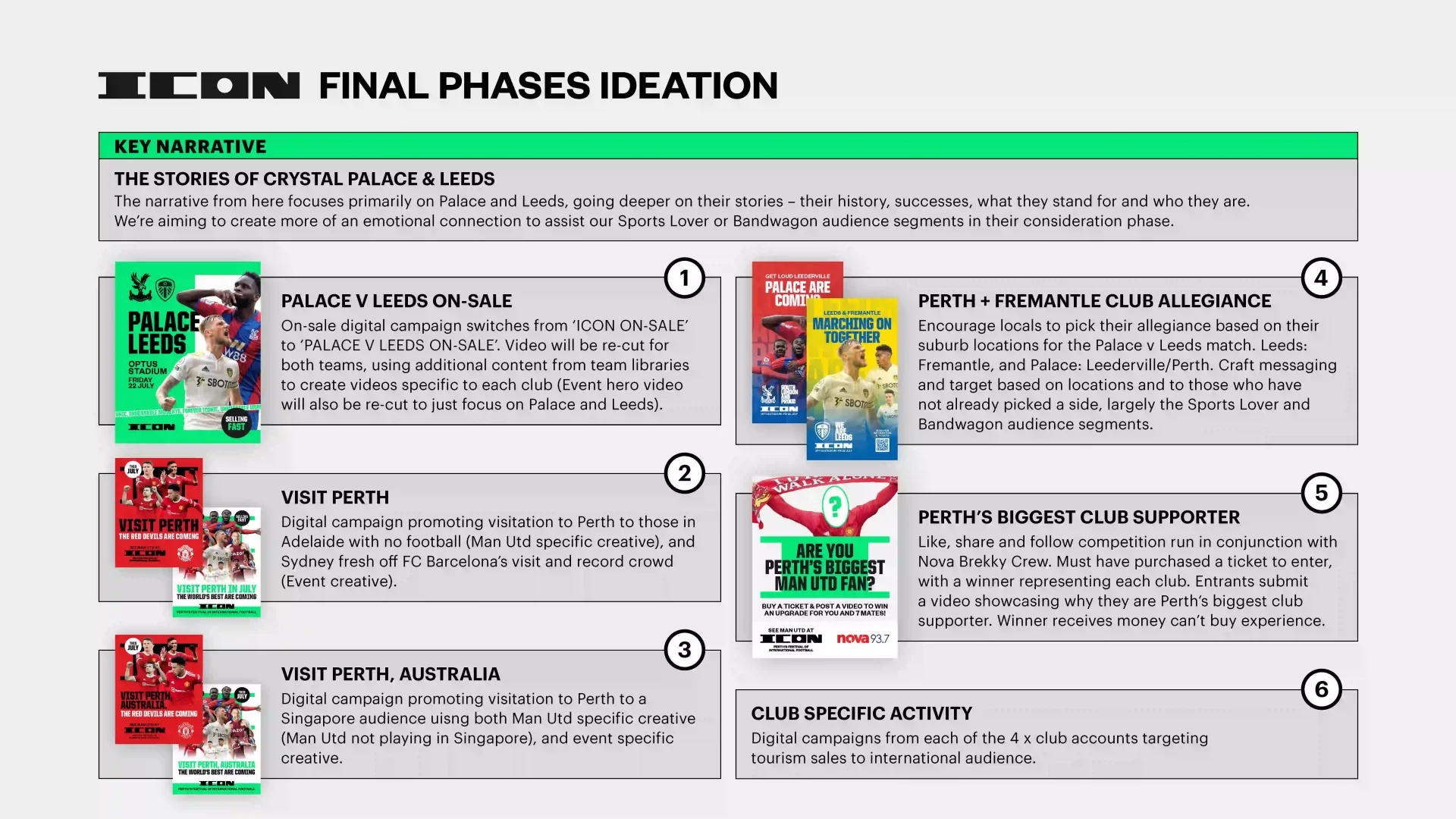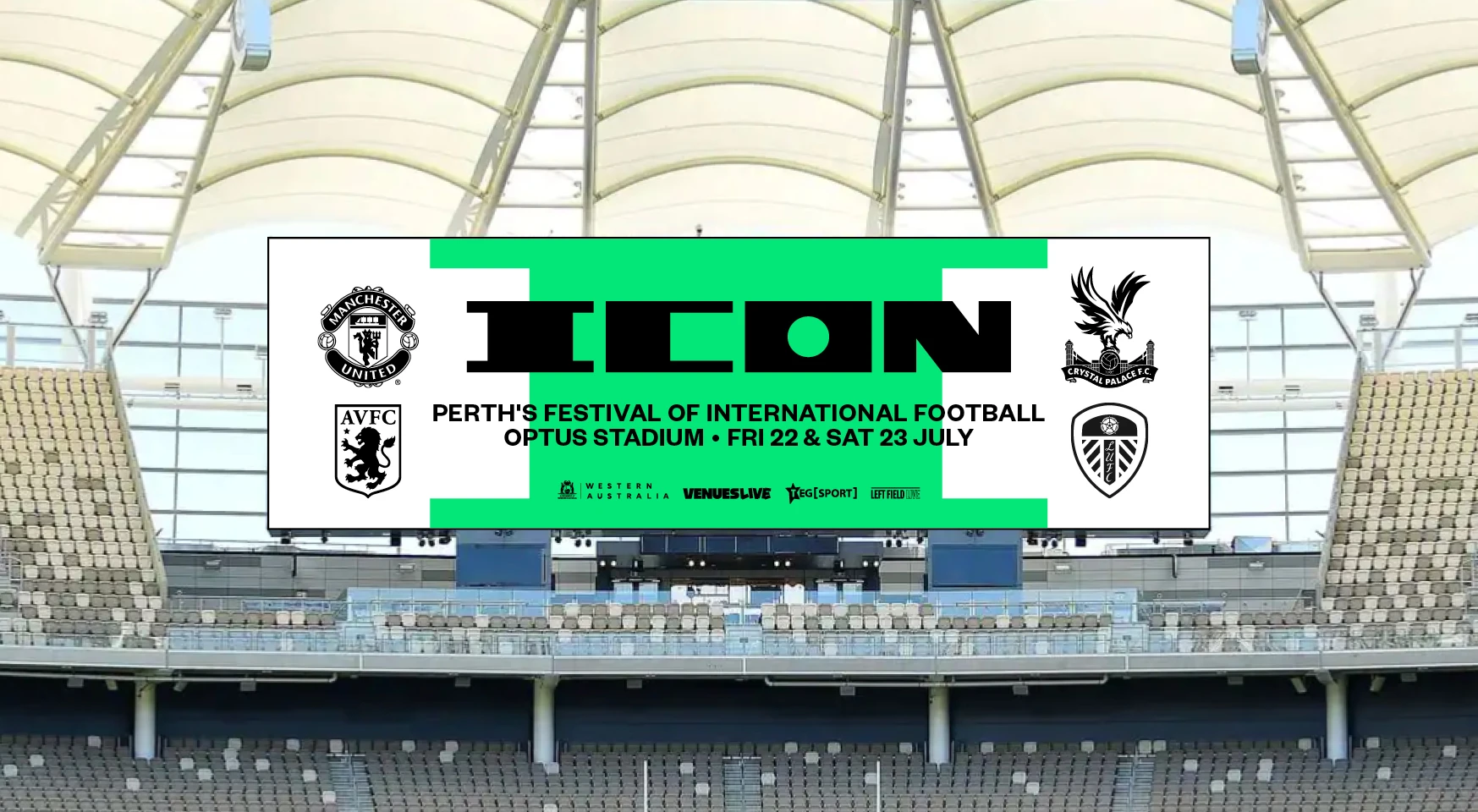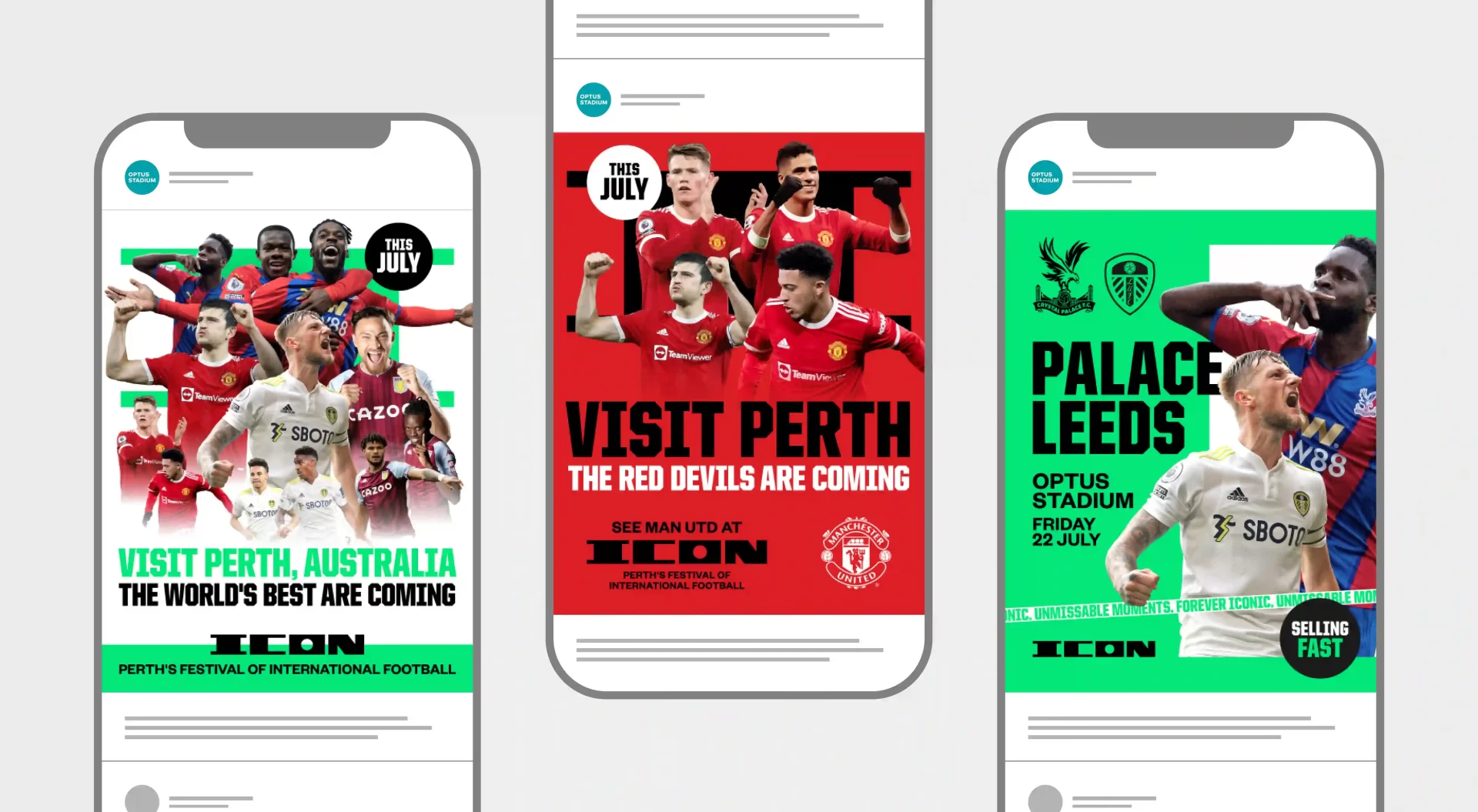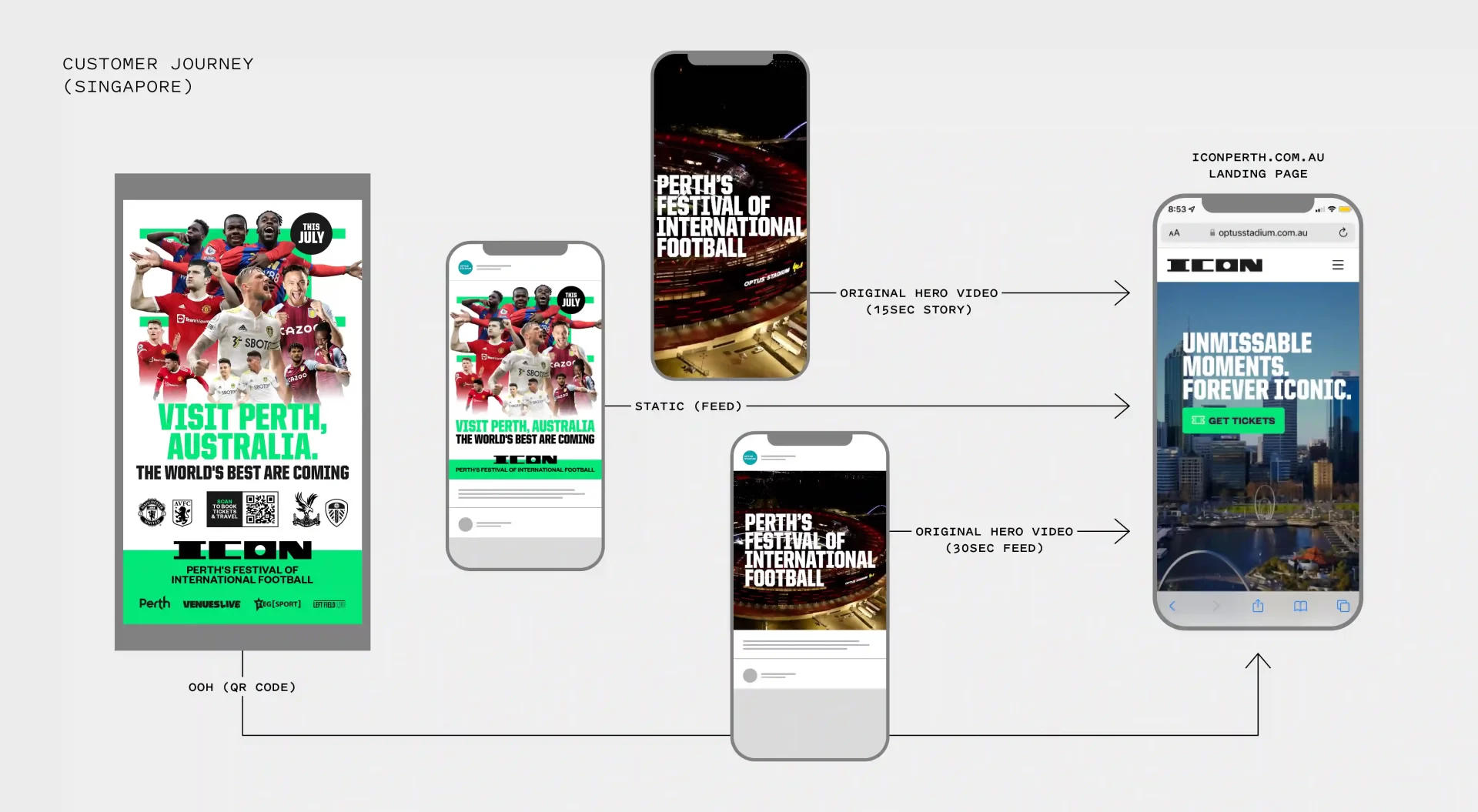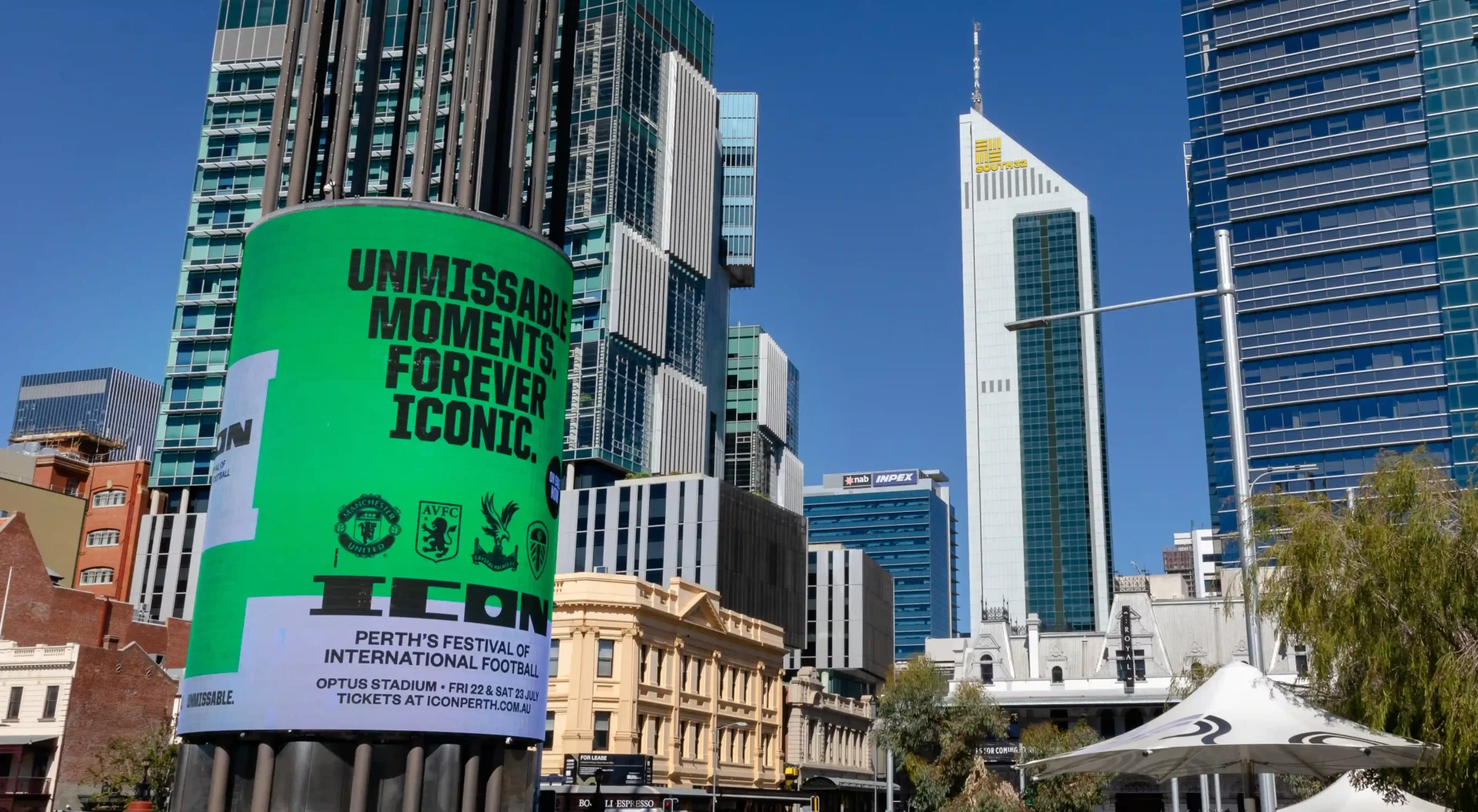 Metrics of success
VenuesLive is a global leader in venue operations and major event delivery, operating three of Australia's most iconic stadiums.
Success in the event's first year would be achieved through over 80,000 ticket sales across two matches featuring Manchester United, Aston Villa, Crystal Palace and Leeds United.
Engagements that reach all corners of the agency are always incredibly rewarding. Couple that with a client that has full trust in you to deliver, and you have ICON's recipe for success.
Anthony Nankervis
Creative Director
Project credits
Services
Brand Strategy
Brand Identity
Campaign Strategy, Planning & Implementation
Copywriting
Video Production
Media Buying
Project Team
Anthony Nankervis
Rhett Ardon
Mike Boag
Cam Campbell
Rachel Thwaites
Joe Mooney
Lucy Newman
Ellysia Burton
Services
Brand Strategy
Brand Identity
Campaign Strategy, Planning & Implementation
Copywriting
Video Production
Media Buying
Project Team
Anthony Nankervis
Rhett Ardon
Mike Boag
Cam Campbell
Rachel Thwaites
Joe Mooney
Lucy Newman
Ellysia Burton