The Impact
After the launch of the refreshed Cooper & Oxley brand and digital experience, the company has increased their proposed business conversion significantly. Attracting larger projects allows further growth and security for the company, clients and subcontractors.
Building on 70 years of Western Australian construction.
Founded by Thomas Cooper and Ropert 'Bob' Oxley in 1952, Cooper & Oxley began as a post-war home builder in Northam (Ballardong region).
After being awarded a series of commercial and government contracts, they expanded to Perth, creating a legacy of  developing countless prominent buildings for WA. You've likely stepped inside a Cooper & Oxley project, as they've consistently been responsible for delivering the highest care in construction on local landmarks; winning a slew of awards in the process.
Under a new generation of directors, the team of talented contractors and project managers were looking to mark the company's 70-year anniversary with a bold evolution of the brand. The new identity and digital experience  would need to articulate what makes a C&O project a better build experience and engage potential clients in new and exciting ways.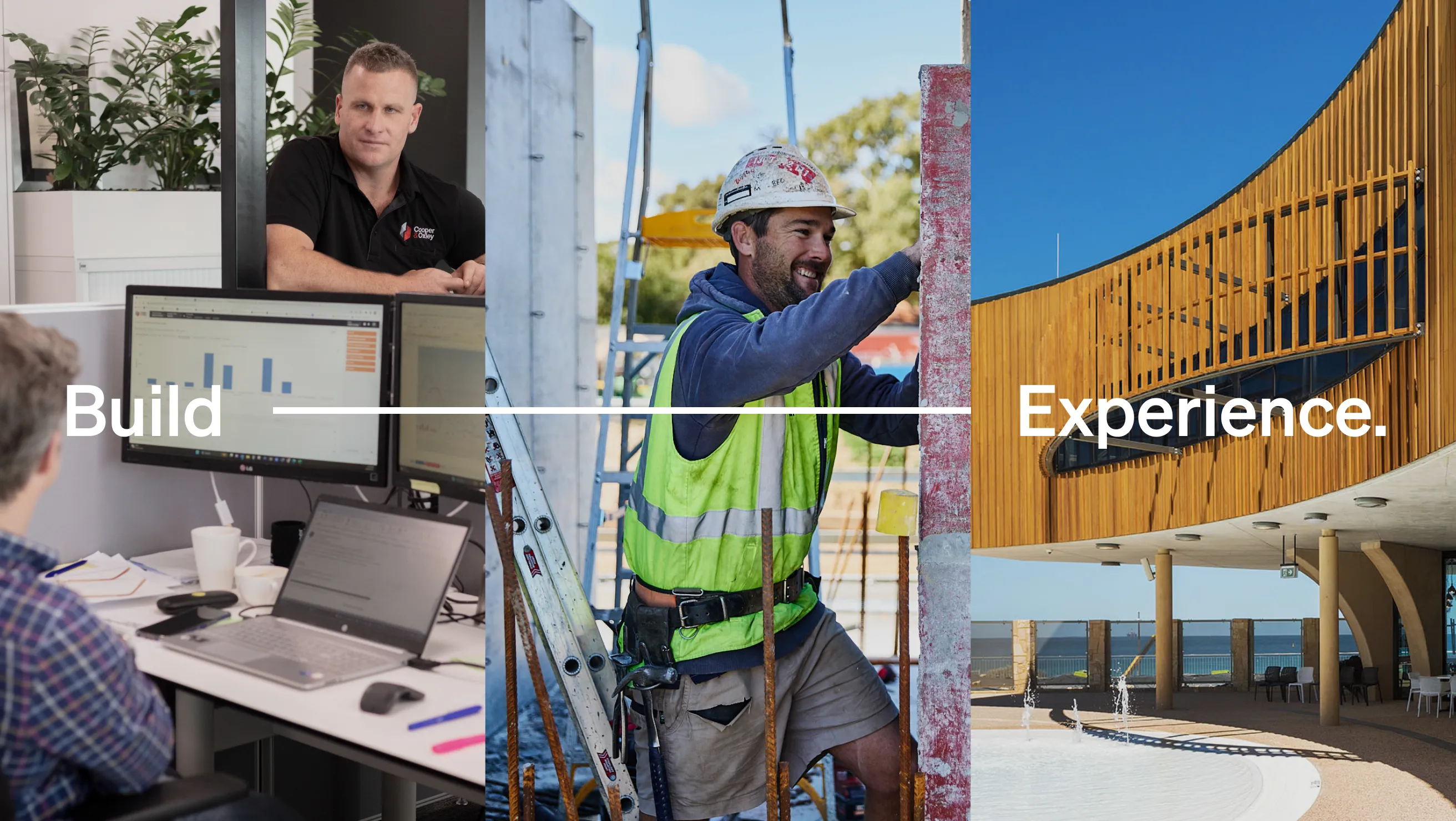 Exploring opportunities through an immersive strategic process to develop a brand that resonates with target audiences.
Strategic Insight
Focus on how you build, not just what you build.
Understanding strategic direction
Our engagement started with a deep dive to better understand Cooper & Oxley's current and future audiences and set short and long-term objectives. Insights gleaned from the immersion session helped us create a strategic roadmap to gain greater brand salience and future-proof the business.
Raise awareness of local prominence
While the company was still being awarded major projects like Scarborough Pool and the East Fremantle Oval Redevelopment, brand recognition was lacking against many larger players in the construction industry. So much so, that some may have questioned whether the business is 'still around'.
Respect the past, inspire the future
In an industry recently fraught with buy-outs, board-culls and business collapses, the new brand needed to make clear that this was an evolution and not be mistaken as a takeover. It was imperative for the client that they honour the 70 years of building history and goodwill that Cooper & Oxley have in the West Australian market.
Showcase 85% repeat business
This stand-out figure made a compelling case for the way Cooper & Oxley approaches every part of the build experience. Most clients would choose them again, so the story of why needed to be front-and-centre.
Digital Experience
Creating an experience that showcases the people as well as the projects — and feels as easy to navigate as the build itself.
A versatile, capable and collaborative brand
The strong letterforms of the wordmark connote confidence and precision, while being easily identifiable on construction hoarding or a vehicle at a distance. The bespoke ampersand speaks to the collaborative partnerships, providing a shorthand marque and suitability for compact applications. Colours were updated to display in the best light for both digital and print spaces.
Meet the audience at the right moment
We developed an approachable Tone of Voice to address the needs and motivations of decision makers in key industries, including Government, Defence, Healthcare, Education and Community. Juicebox recommended to improve case studies on previous projects to focus more on how the business is well-versed in the challenges experienced by these industries.
Quick wins in the digital space
We identified a lack of GA tracking on their existing website. Their online presence would become a key brand touchpoint, so tracking would allow us to understand user interactions to continually refine the digital experience. We updated the navigation so users from each industry could easily find related past projects to their future ones.
A more human experience
Bringing the people of Cooper & Oxley to the fore was essential to the success of the website. Juicebox facilitated a photoshoot to capture more naturalistic and approachable-feeling portraits of dozens of their key people, allowing them to have a moment to shine.
I can really see that you guys have a formula – and that it works. We just know we are working with the right people. You're absolutely smashing it and the impact speaks for itself.
Nathan Hampel
Director, Cooper & Oxley
Project credits
Services
Brand Identity Design
Digital Strategy
User Experience Design
Web Development
Copywriting
Photography
Project Team
Mike Boag
Joe Mooney
Adam Oliver
Matt Woodcock
Daniel Santich
Andrew Stone
Services
Brand Identity Design
Digital Strategy
User Experience Design
Web Development
Copywriting
Photography
Project Team
Mike Boag
Joe Mooney
Adam Oliver
Matt Woodcock
Daniel Santich
Andrew Stone