Overview + Objective
Coca-Cola, the world's most recognised brand, was deeply affected as our world went into lockdown. Cafes, corner stores, and lunch bars shut down, decimating the brand's bottom line and also the livelihoods of their small retail customers. To encourage patronage back to these small businesses upon reopening and drive sales of the 600ml categories, we created a campaign designed to reward both Coca-Cola's small retail customers and their consumers alike.
0
Total entries from instore purchases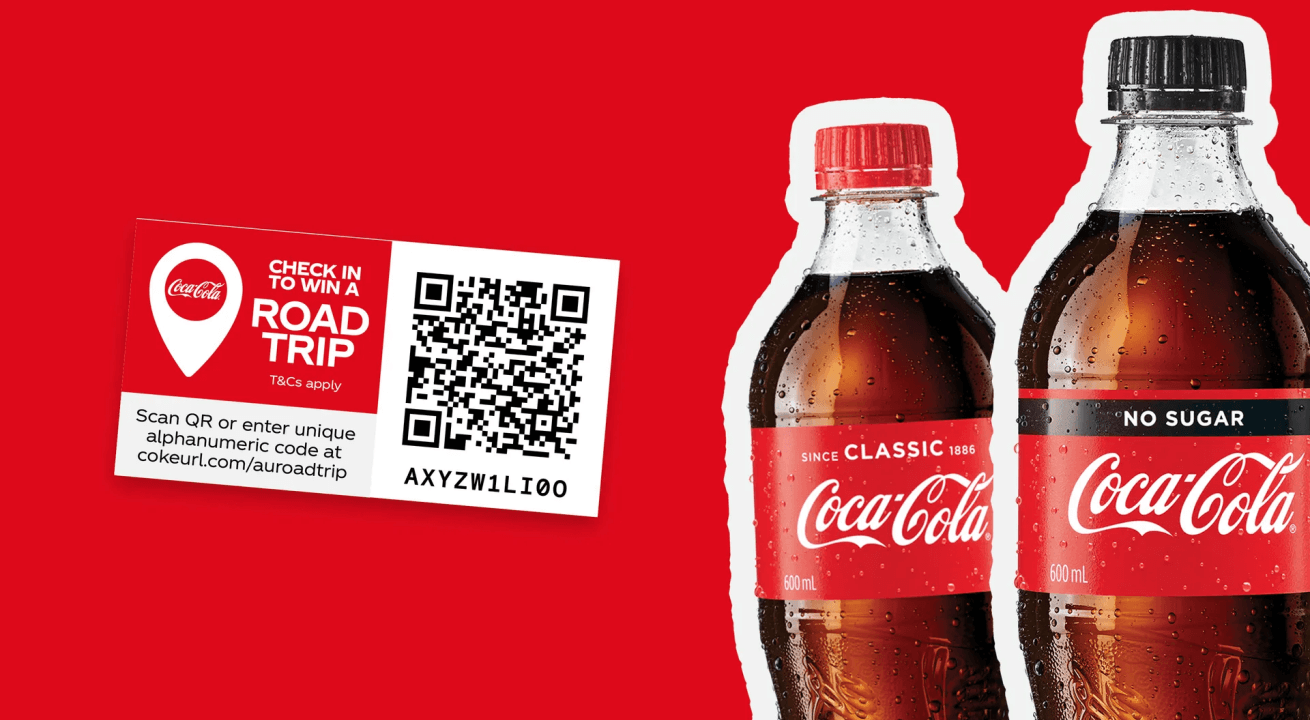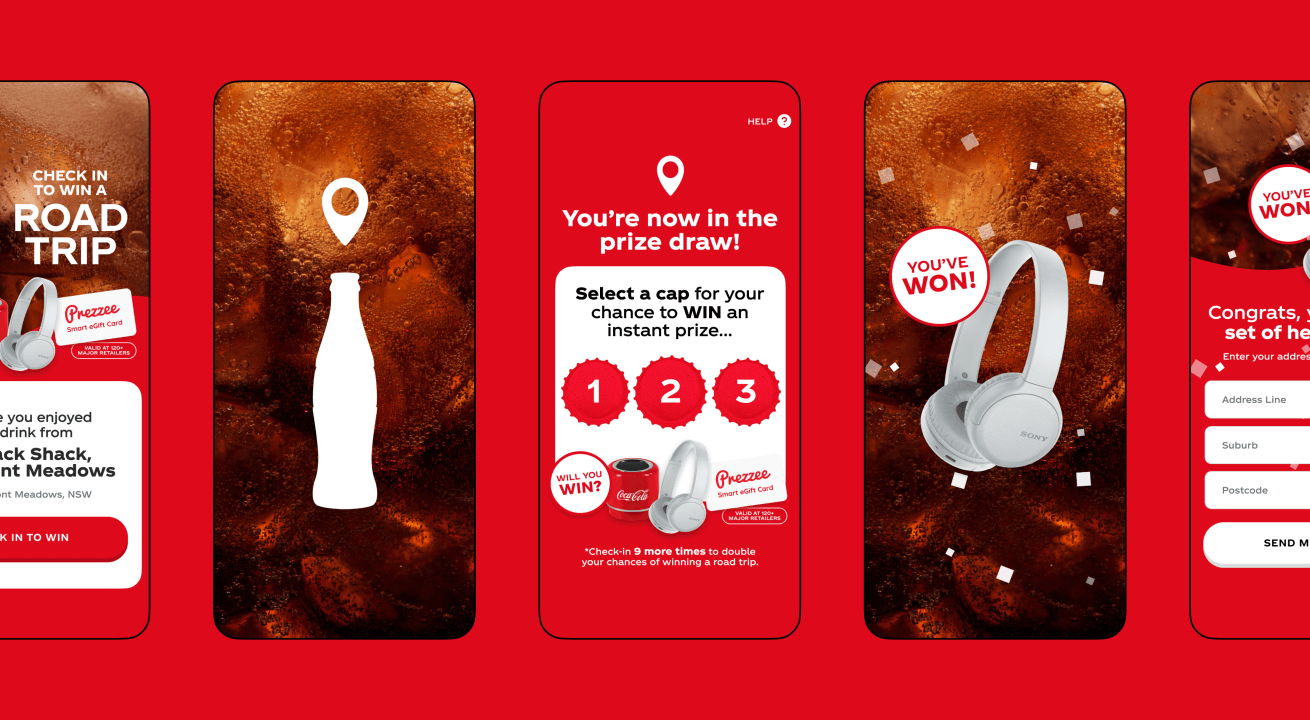 The Discovery
With travel unforeseeable and people feeling low due to the pandemic, we wanted to put a positive spin on the situation and encourage people to get out and visit retailers.
The campaign needed an easy consumer journey (local businesses) and customer journey (coke drinkers) with incentives for participation (prizes). It also needed to work whether Australia 'opened up' in a matter of weeks or restrictions returned.
As local businesses didn't have a unified POS system, we would have to verify proof of purchase another way. It was also integral to incorporate current brand messaging and capture a moment of refreshment and enjoyment.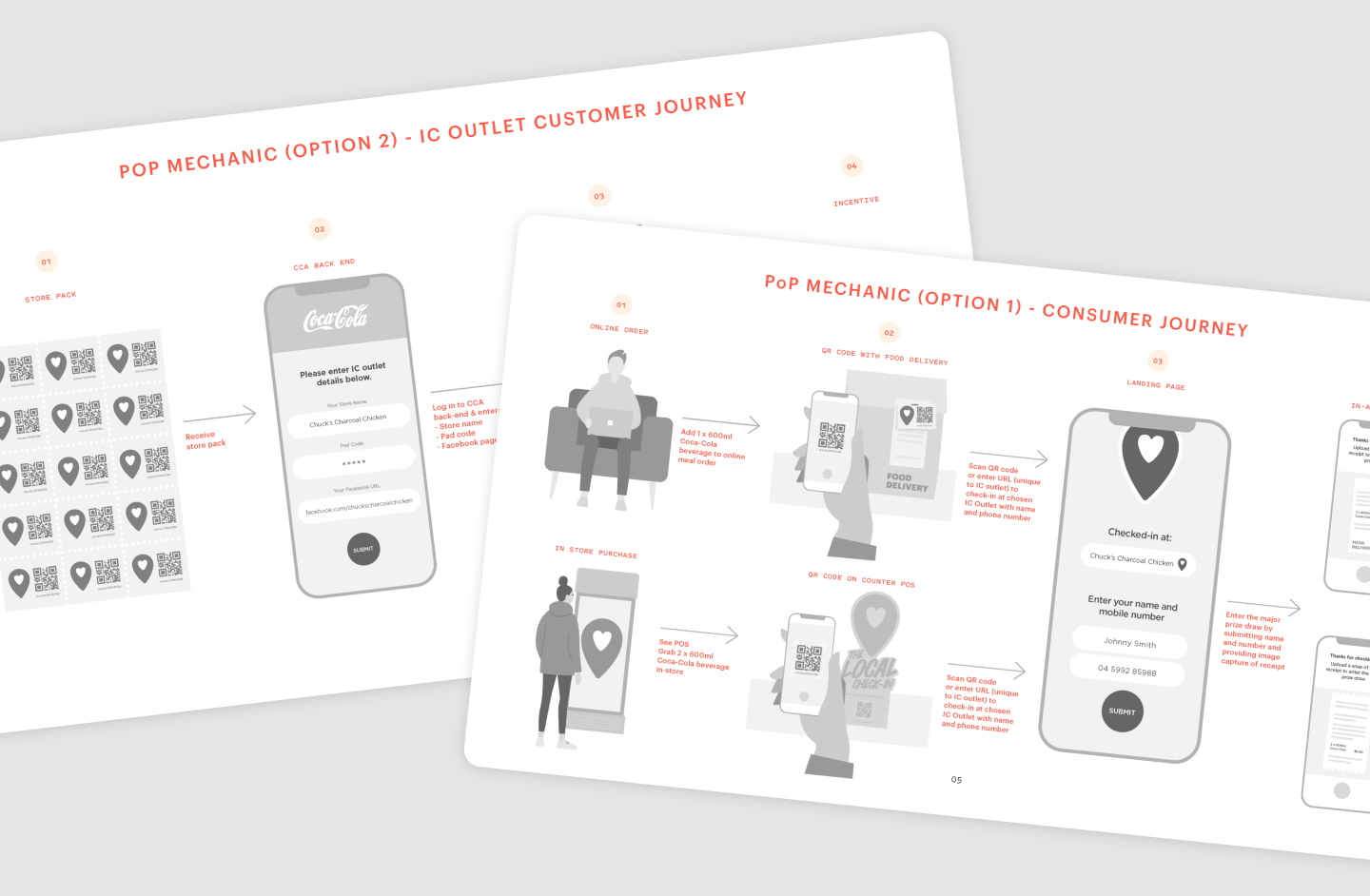 The objective
Drive 600ml Coca-Cola growth through operational and key account groups with a campaign encouraging in-store purchase.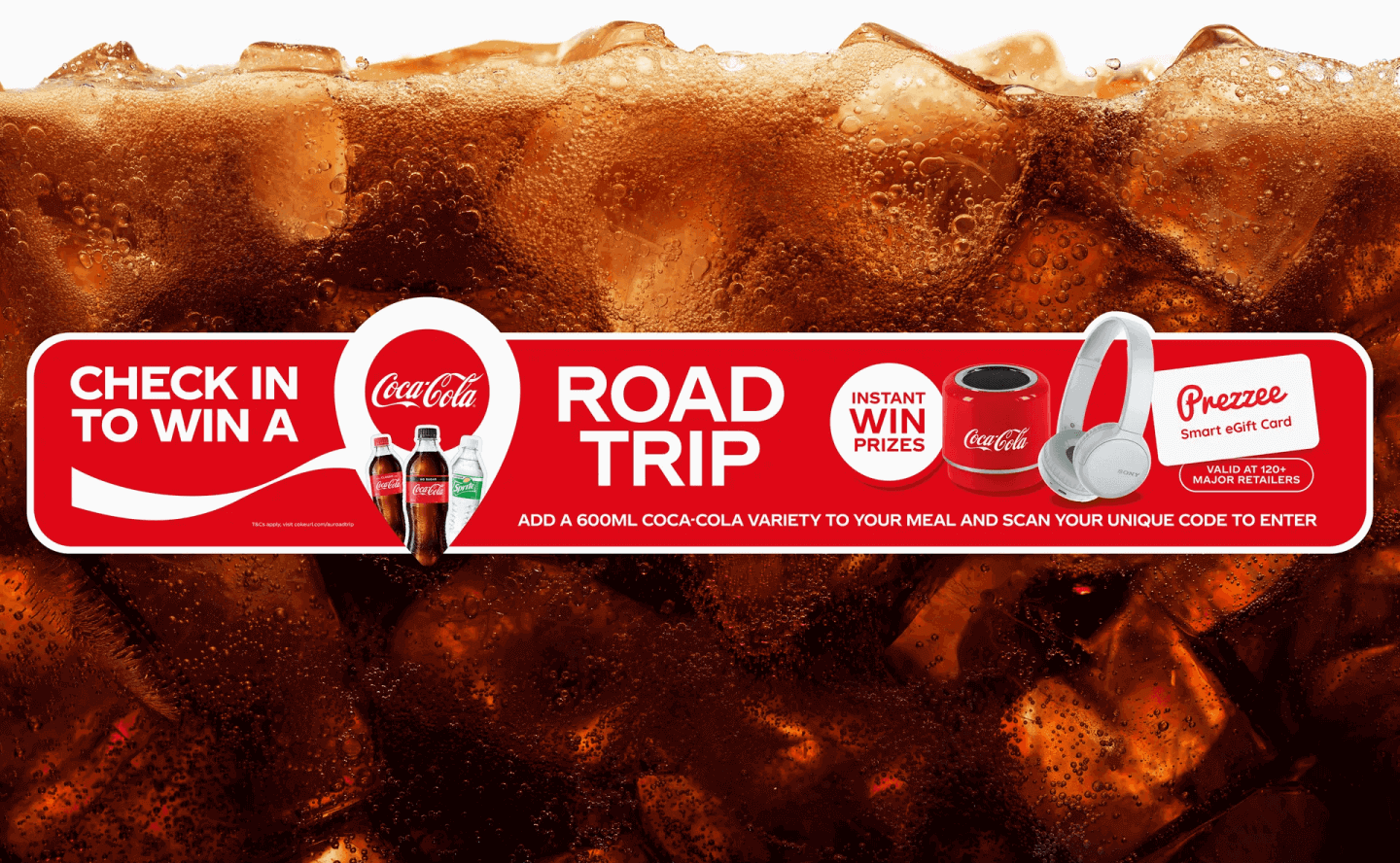 The transformation
We envisioned the Coca-Cola Road Trip – a digital-led campaign and competition designed to encourage customers to revisit local businesses and get out on the road to explore their state (where possible).
The term 'check in' was used as a mechanism, as well as a subtle nod to look after one another, including local, often family-run businesses. We designed campaign collateral for retailers across the bain-marie, fridge decals and counter cards.
The major prize was a $2,500 gift card to sponsor a road trip of choice. Instant prizes added to the experience – 1,000 physical prizes and gift cards (25 randomly selected winners each day).
The web application
Our mobile-first UX is built to facilitate frictionless entry, validate proof of purchase, and streamline digital prize fulfilment. We used QR codes to match entry tickets to their place of purchase, requiring close to 10 million unique QR codes to be printed.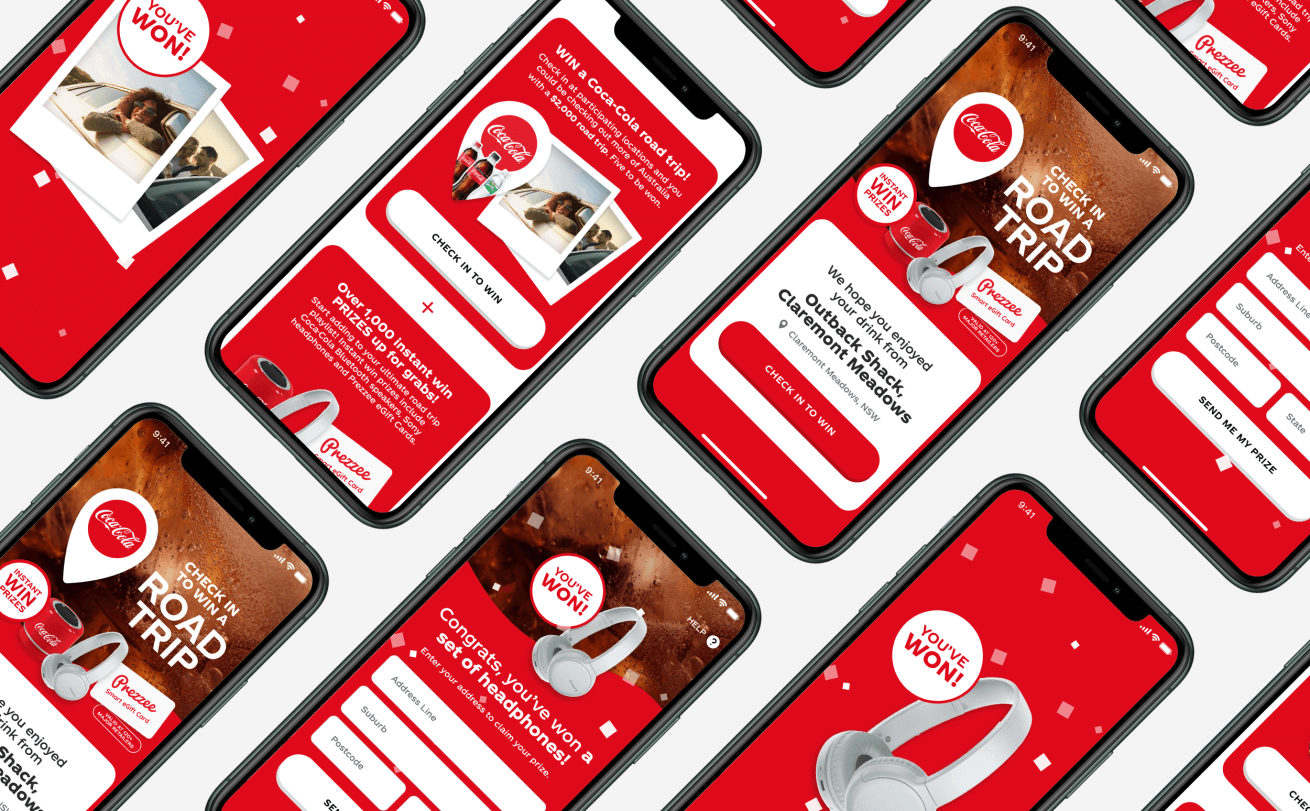 Optimisation + Results
The digital experience included a customised dashboard that allowed the Coca-Cola team and supporting partners to review campaign performance and optimise in real-time, manage prizes, track fulfilment and amend customer information.
The campaign was deemed Coca-Cola's most successful in Australia in the 600ml category.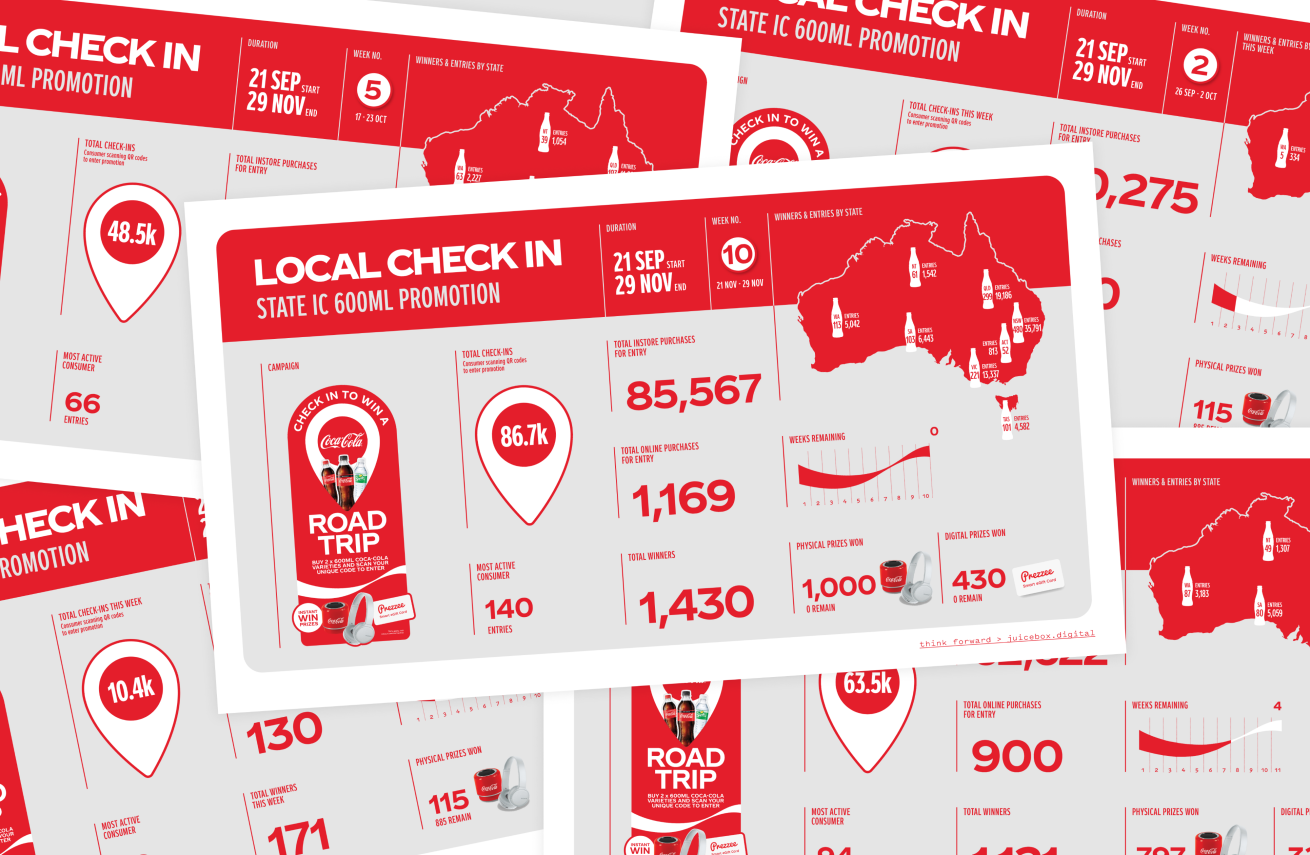 Being part of this national campaign was great, it was a real collective agency effort. A highlight was notifying the winners and witnessing their happiness myself!
Nathalie Galistan
Senior Account Manager, Juicebox
Project credits
Services
Campaign Strategy
Campaign Identity
Campaign Execution
Copywriting
UX Design
Campaign Website
Project Team
Anthony Nankervis
Nathalie Galiston
Ivona Gaspar
Chris Jones
Matthew Woodcock
Mike Boag
Vaughn Hockey
Rachel Thwaites
Pooja Hoderkar
Robert Lim
Services
Campaign Strategy
Campaign Identity
Campaign Execution
Copywriting
UX Design
Campaign Website
Project Team
Anthony Nankervis
Nathalie Galiston
Ivona Gaspar
Chris Jones
Matthew Woodcock
Mike Boag
Vaughn Hockey
Rachel Thwaites
Pooja Hoderkar
Robert Lim