Overview + Objective
Binar (BIN-ah) is a space program building the next generation of Australian small spacecraft at Curtin University's Space Science and Technology Centre. Binar came to Juicebox via AROSE, the Australian Remote Operations for Space Exploration, looking to partner with a strategic agency that could create a brand and digital experience that would attract funding and gain public attention of its ultimate mission to the moon.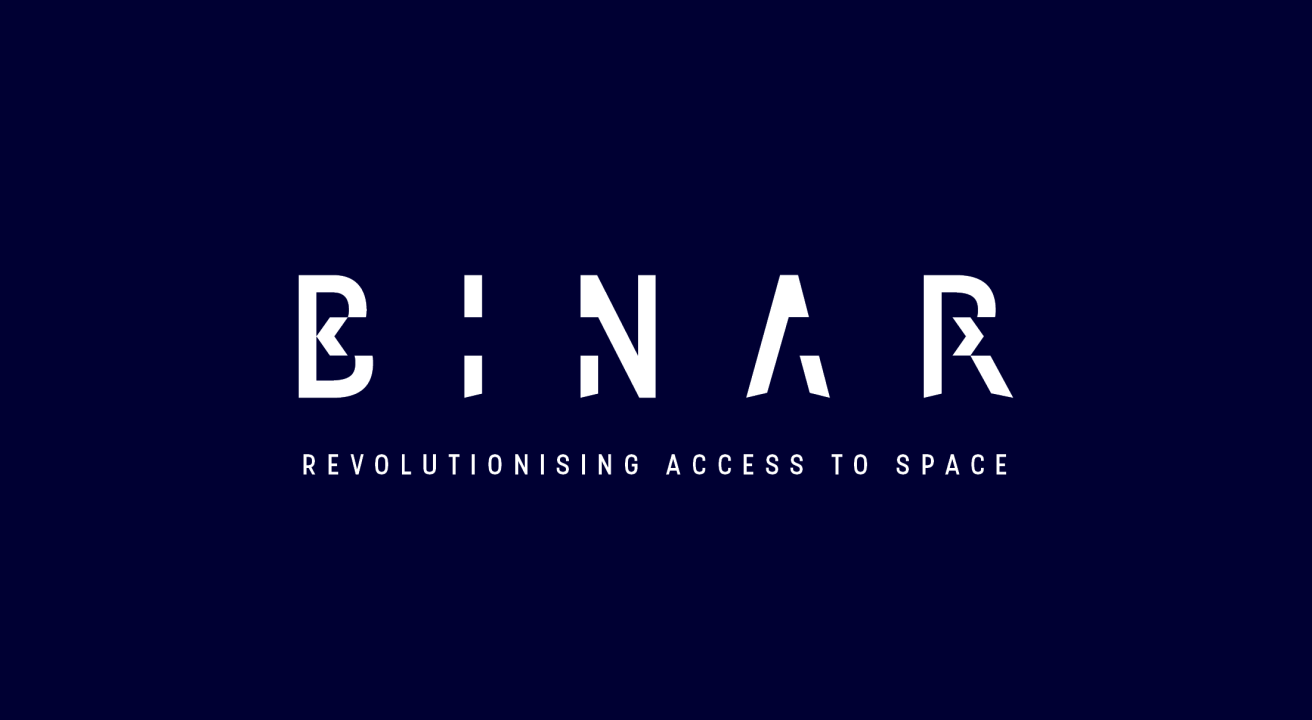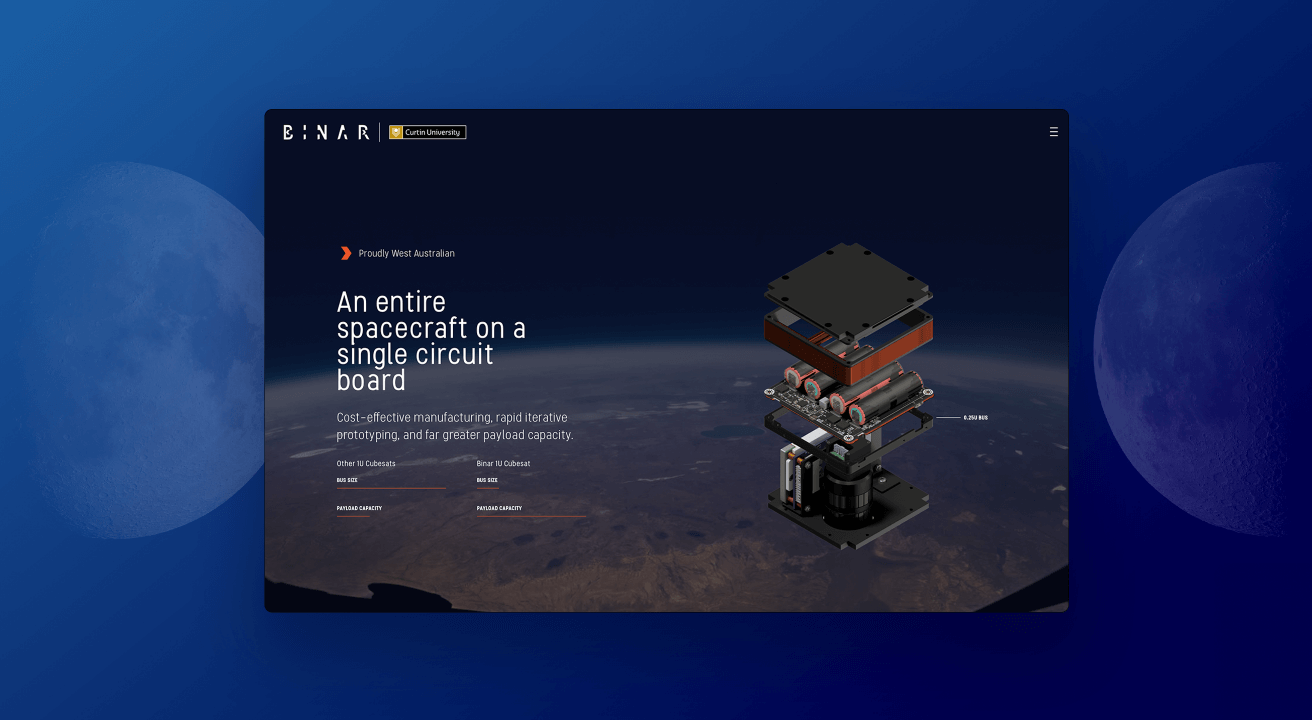 Uniting audiences
The key strategic challenge for Binar was making space innovation accessible for the general public, while communicating the opportunity for investment to potential stakeholders.
Define
In collaboration with Binar, three key audience segments were identified; the corporate community, students and the general public.
Inspire
The Binar brand and content needed to inspire kids and future university students to explore STEM and see space and engineering as viable career options in Australia.
Engage
Binar was launching a cube satellite into space in 2021 and planning a mission to the moon within five years! We knew how impressive this was, and just needed everyone else to know about it too.
Partner
How would we engage the public? Although a massive feat for Western Australia, not everyone would engage in space-related content. We decided online and real-life visibility would get people talking.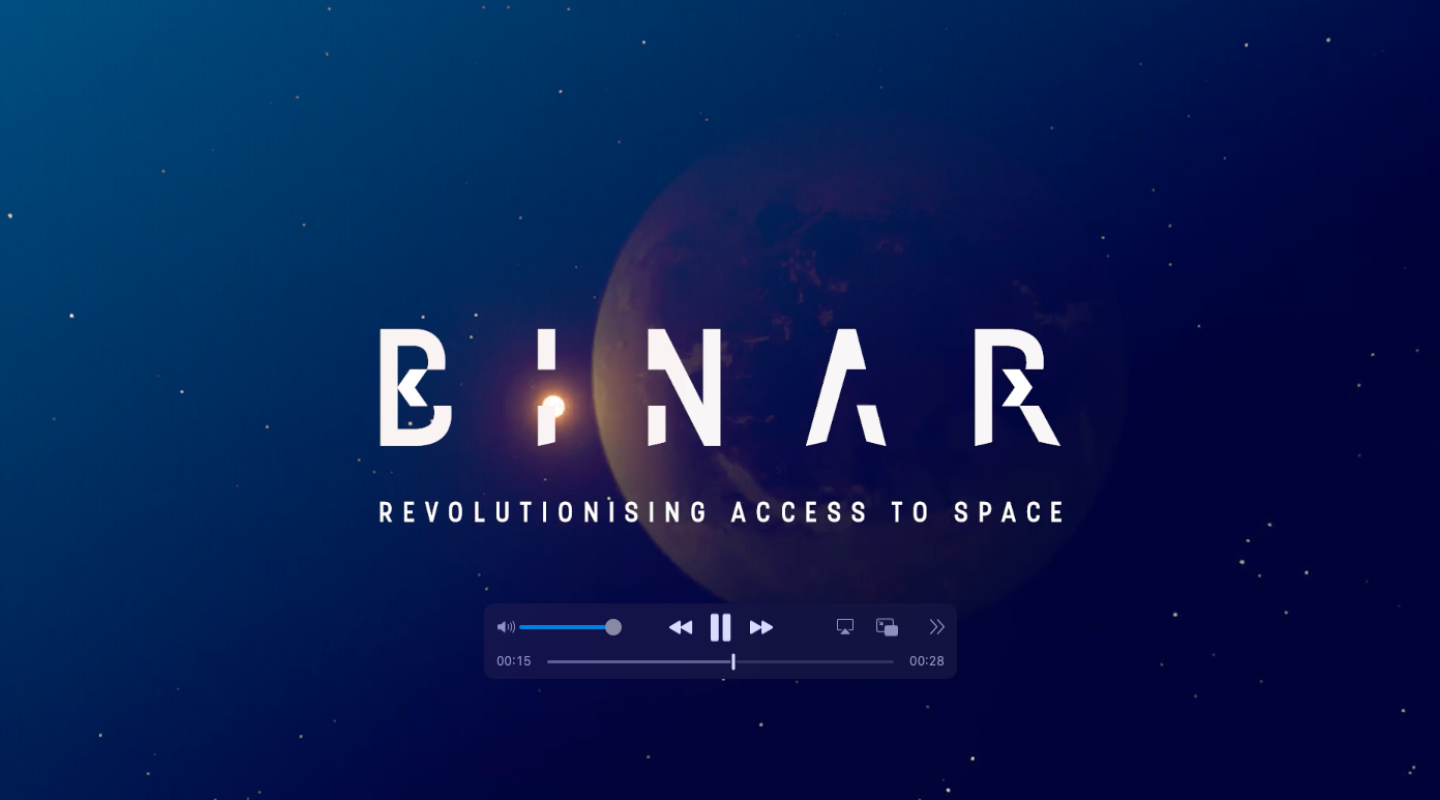 Binar's student-led DNA
Throughout Binar's brand development and into its launch phase, we championed the student-led DNA at the heart of the space program. In doing this, we created brand touchpoints designed to reach a more mainstream youth audience in the hope of promoting space exploration as a potential career path.
We collaborated with notorious streetwear brand, StreetX, to create the cubesat tee –  selling out after the first run and attracting significant earned media. The tees were worn by Binar's student team at the space program's official Curtin University launch (where WA Premier, Mark McGowan, was presented with his very own tee) and again for the rocket launch at Perth's Yagan Square.
In partnership with WA Museum Boola Bardip, we created 'Big Binar' – an oversized version of the Binar cubesat – for school-aged children where they could engage with the program by providing their own message of what space means to them. These messages were then displayed to inspire younger generations through the aspirational nature of space exploration and the joy of scientific discovery.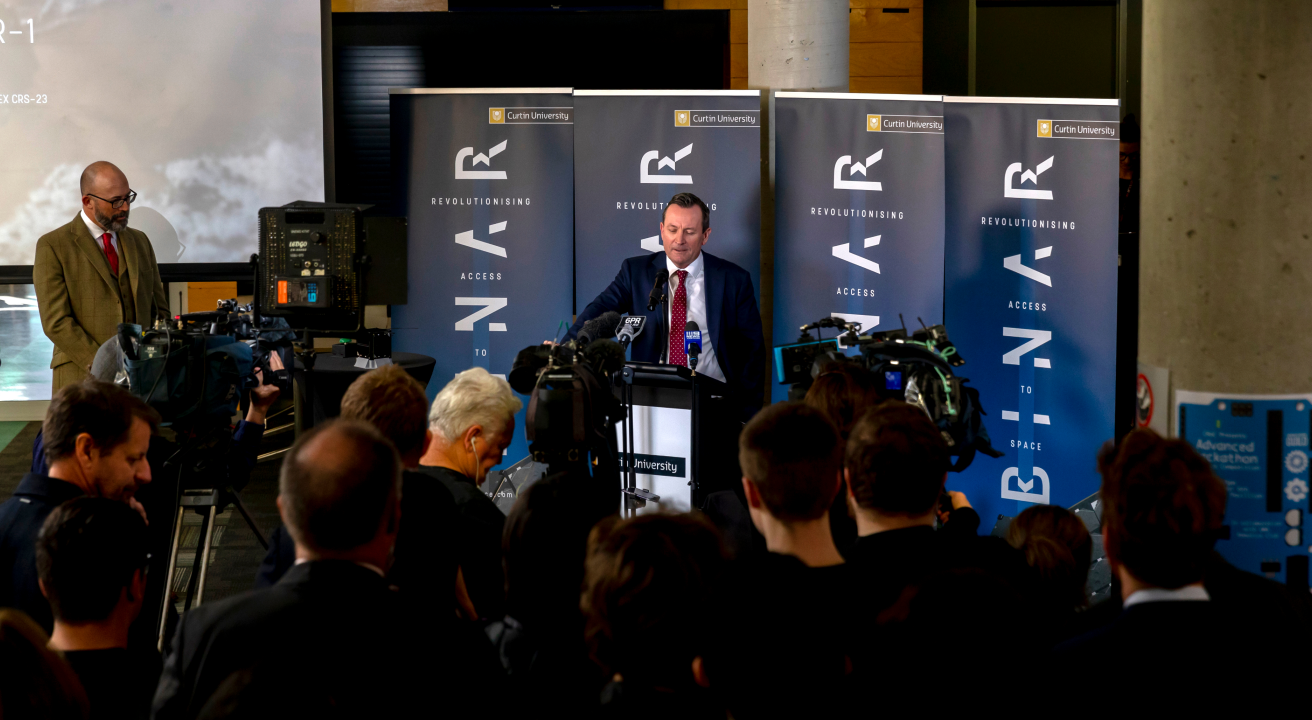 Digital strategy and launch
We managed Binar's social media content at launch based on a robust digital strategy. The rocket launch itself was live-streamed to the world from NASA's Kennedy Space Centre in Florida, and beamed into Perth's CBD on the 360° screen at Yagan Square.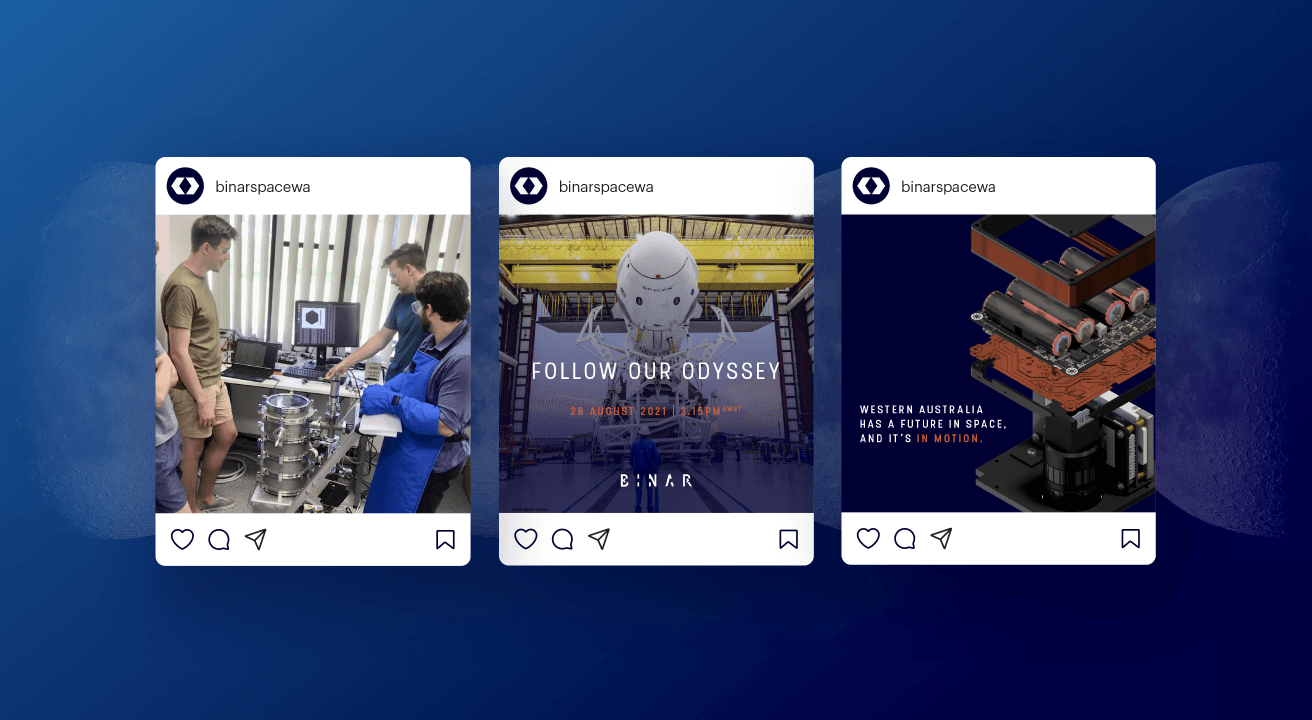 Making space matter to government
Juicebox worked with Binar to produce a set of presentations designed to educate and engage the Western Australian state government. WA Premier, Mark McGowan and Minister for Science, Roger Cook were on-hand to officially launch Binar to the world with a multi-million dollar funding commitment, securing the program's future.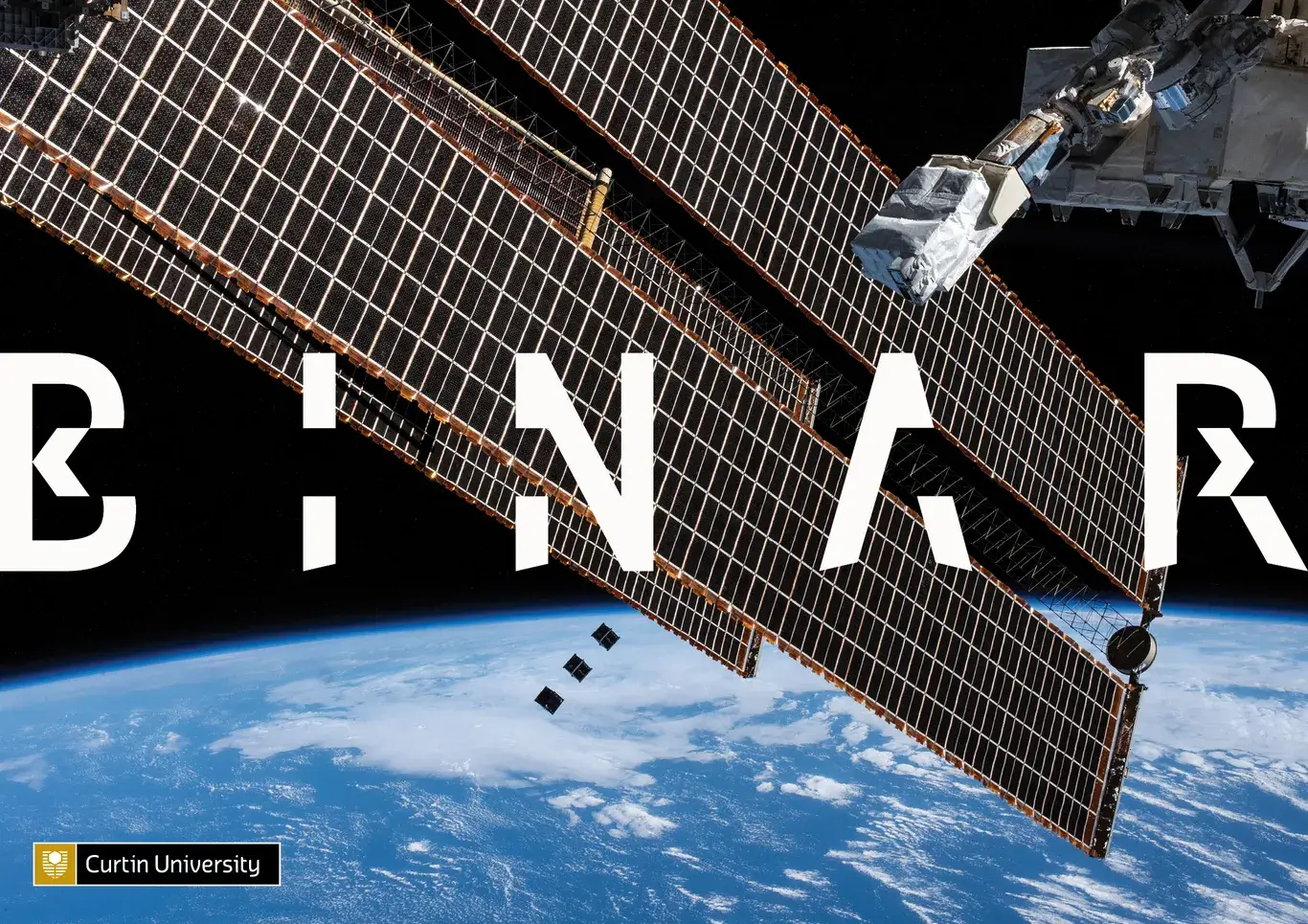 Connecting earth and sky
Binar's brand balances the visual language of the STEM world with a style designed to inspire youth, and appeal to funding and corporate communities, students and the general public.
After a collaborative moodboarding session, the Binar team agreed on the ochres and earthy tones of the Western Australian landscape for the brand.
In creating the logo, we looked at a cube's negative and positive forms and represented its future orbit. We landed on two core fonts, one for easy reading at any age and one that had more of a futurist space feel.
Part of the Binar challenge was turning complex subject matter into easy to understand content, and successfully communicating how important this space program is for Western Australia.
Anthony Nankervis
Creative Director, Juicebox
Project credits
Year of Completion
Ongoing
Services
Brand Strategy
Brand Identity
Video Production
Digital Marketing
Public Relations
Copywriting
Project Team
Cameron Campbell
Lucy Newman
Joe Mooney
Naomi Faye
Amy Bentley
Adam Oliver
Andy Davey
Year of Completion
Ongoing
Services
Brand Strategy
Brand Identity
Video Production
Digital Marketing
Public Relations
Copywriting
Project Team
Cameron Campbell
Lucy Newman
Joe Mooney
Naomi Faye
Amy Bentley
Adam Oliver
Andy Davey